Michele Ferrari attempts to block Armstrong film's release in Italy
Lance Armstrong's doctor Michele Ferrari attempts to stop 'The Program' being distributed in Italy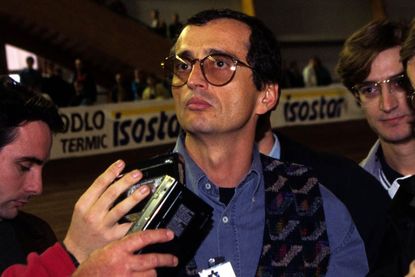 (Image credit: Graham Watson)
Dr Michele Ferrari is reportedly trying to block the distribution of the Lance Armstrong biopic 'The Program' in Italy.
Dr Ferrari claims he never injected Armstrong with EPO, as is depicted in the film by Stephen Frears, prompting his lawyers to attempt to stop distributor Videa from making it available in Italy, according to the Associated Press.

>>> Lance Armstrong biopic actor takes performance-enhancing drugs as 'research'
The controversial scene, in the film based on the book by David Walsh and Pierre Ballester, sees Dr Ferrari, played by Guillaume Canet, injecting Ben Foster's Armstrong character, which the doctor insists never occurred.
Armstrong himself has admitted that he took EPO on the recommendation of Dr Ferrari, but there appears to be no evidence that the Italian himself administered it.
>>> Review: Lance Armstrong biopic 'The Program' (video)
Dr Ferrari was banned for life, along with Armstrong, after the USADA case revealed the Texan's doping regime. He was also banned by the Italian Olympic Committee in 2002, which he is currently appealing.
Thank you for reading 20 articles this month* Join now for unlimited access
Enjoy your first month for just £1 / $1 / €1
*Read 5 free articles per month without a subscription
Join now for unlimited access
Try first month for just £1 / $1 / €1