Millar rides through the pain barrier to make time cut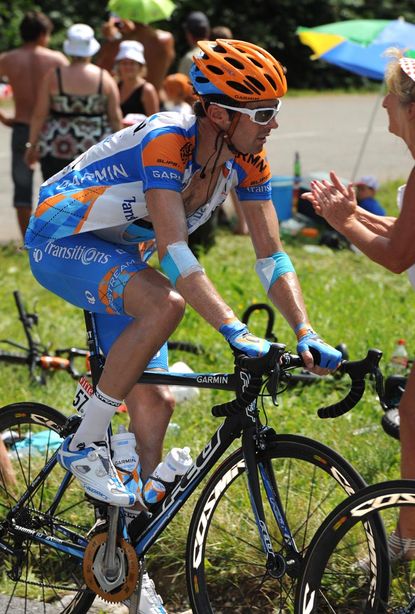 David Millar endured one of his worst days on the bike yesterday – riding 180 kilometres on his own and dragging his bruised and battered body over the mountains not knowing whether he'd make the time limit.
The Garmin-Transitions rider has been nursing injuries, including some badly bruised ribs, since a trio of crashes on stage two. He was dropped on the first climb during yesterday's ninth stage from Morzine to St Jean-de Maurienne.
At the finish he was 42 minutes behind the stage winner, Sandy Casar, and seven minutes adrift of the second-from-last rider. But he made the time cut and lives to fight another day.
Millar said: "Today represents a brand new entry into my top five worst days on a bike. I spent 180 kilometres by myself, convinced I was going to abandon or be eliminated.
"I crashed three times on stage two and the third time I flipped over the handlebars and knew I'd really hurt myself. Ever since I've been battling injuries from that crash, plus a fever and a stomach bug. I've basically been hanging on for dear life.
"I started today motivated but knew immediately something wasn't right. My left side, where I'd crashed, just locked up and then my back started having spasms.
"I spent about three hours packing in my head. At 100 kilometres to go I was 30 minutes down on the leaders. All I could see in my head were the contours of the stage from the maps. I broke it up into five-kilometre climbs and kept thinking 'I have to get through this'.
"The fans on the side of the road were brilliant. They were cheering and telling me not to give up and they made a huge difference to me. At the finish I didn't know if I'd made the time ut or not but I knew I had finished. At the Tour it's all about finishing. This is not a race you want to leave or give up without turning yourself inside out."
Thank you for reading 20 articles this month* Join now for unlimited access
Enjoy your first month for just £1 / $1 / €1
*Read 5 free articles per month without a subscription
Join now for unlimited access
Try first month for just £1 / $1 / €1