Monsal Hill-Climb has record number of entries for 2017 event
Classic hill-climb in the Derbyshire Peak District has attracted a record entry list of 190 riders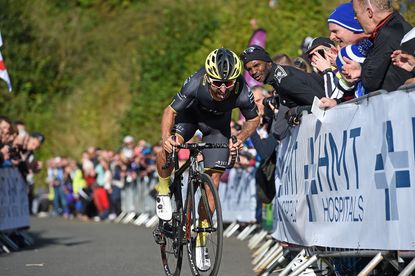 (Image credit: Andy Jones)
The 2017 edition of the Monsal Hill-Climb has a full entry list of 190 riders, the most that the classic annual event has ever fielded.
The 87th running of the event takes place on Sunday, October 1, and is a mainstay of the short British hill-climb season. Evidently, the race's popularity is still growing and organiser Sheffrec Cycling Club says the age range of competitors this year is six to 56.
Riders must tackle the lung-busting 675-yard (617 metres) climb of Monsal Head in the Derbyshire Peak District, which is usually lined with a noisy and encouraging pack of spectators.
The current men's course record was set by former international professional Malcolm Elliott, who posted a time of one minute and 14.2 seconds in 1981.
He had previously beaten the mark set by Tom Simpson in 1957 of 1-23.4. Elliott still regularly appears at the event to present the prizes.
As well as Simpson and Elliott, previous winners have included four-time winner Russell Downing, Adam Blythe, Dean Downing, Graham Briggs, Jack Pullar and last year's winner, Adam Kenway.
Lou Bates set a new women's record of 1-42.8 last year, proving that course records are still up for grabs.
Thank you for reading 20 articles this month* Join now for unlimited access
Enjoy your first month for just £1 / $1 / €1
*Read 5 free articles per month without a subscription
Join now for unlimited access
Try first month for just £1 / $1 / €1