Motorist drives 60 metres with cyclist on bonnet before crashing into garden
Driver faces two charges over incident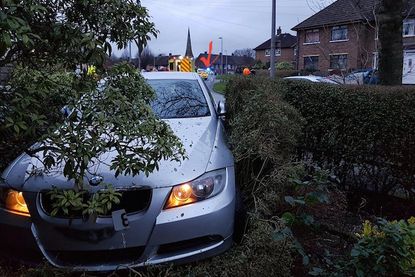 (Image credit: GMP Traffic/Twitter)
A motorist in Manchester has been charged with driving without due care and attention after allegedly driving for 60 metres with a cyclist on their bonnet, and only coming to a stop after crashing into a garden.
A photo posted on Twitter by the Greater Manchester Police's traffic division shows a silver BMW which has crashed through a hedge into someone's front garden on Meadowgate Road in Salford, with police saying that the driver had travelled down the road for 60 metres with a cyclist on the bonnet before coming to a halt.
"Driver cutting the corner collided with a cyclist indicated by the arrow, left the carriageway with cyclist still on the bonnet before stopping in a garden 60m on," read the caption on the photo, which has since been retweeted 60 times and received 35 replies.
>>> 'What's the point in sending him to prison?': Motorish who admitted killing cyclist spared jail by judge
Emergency services attended the scene, although police did not say what injuries that cyclist sustained in the crash. The police also say that the driver is being prosecuted for driving without due care and attention, and for driving otherwise in accordance with their the license as police say that they were driving alone without having passed their test when the incident occurred on Wednesday morning.
The tweet gained significant attention from many cyclists on Wednesday, with some criticising the wording of the tweet for not putting enough emphasis on the fact that the a cyclist had been hit and injured in the crash.
Greater Manchester Police has previously faced criticism from cycling groups after a local policing team said that it would be "challenging/fining" cyclists who do not follow "good practice", accompanying the tweet with an image with a cyclist apparently following "good practice" wearing a reflective helmet and jacket.
Thank you for reading 20 articles this month* Join now for unlimited access
Enjoy your first month for just £1 / $1 / €1
*Read 5 free articles per month without a subscription
Join now for unlimited access
Try first month for just £1 / $1 / €1