Denton police attracts Twitter criticism after saying it would fine cyclists not following 'good practice'
Greater Manchester Police Denton issues further tweets to clarify position after saying it would be 'challenging/fining' cyclists who did not 'follow good practice' - Cycling UK spokesperson says 'they should know better'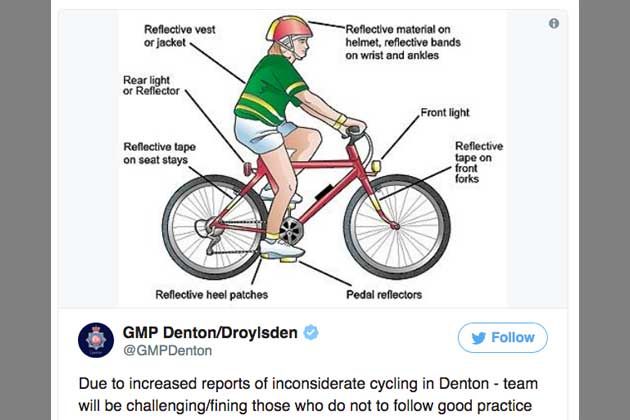 Greater Manchester Police Denton/Droylsden has attracted criticism after posting a message on Twitter saying that it would be "challenging/fining" cyclists who do not follow "good practice" after a spate of inconsiderate cycling in the area.
The message was accompanied by an image of a cyclist that many took to be an indication of 'good practice'.
"Due to increased reports of inconsiderate cycling in Denton - team will be challenging/fining those who do not to follow good practice," read the message posted on Friday.
The annotated image shows the cyclist wearing reflective material on their helmet, reflective jacket, reflective wrist bands and reflective heel patches. The bike has reflectors on the seat stays, forks, pedals, and front and rear, as well as lights.
This led to confusion among Twitter users as to whether GMP Denton/Droylsden was saying it was law to have all these items in place, and whether it would attract a fine or warning if cyclists did not use them.
GMP Denton/Droylsden then later clarified that fines would only be issued where the law was 'flouted'.
"Well that escalated quickly - For clarity Denton has specific cycle related ASB [anti-social behaviour] problems. Fines will only be issued where law flouted. Examples - no lights, running red lights, pulling wheelies in traffic, cycling on pavement etc," read the follow-up messages.
It admitted that the use of the image had been a 'poor choice'.
The original tweet with the image was subsequently deleted, with a replacement then published with a more generic image and saying 'reflective bands optional'.
Cycling UK campaigner Sam Jones said that GMP Denton should have been more clear regarding the law relating to lights and reflectors saying that poorly-worded statements do 'more harm than good'.
"While it's good to hear GMP Denton have realised their mistake, they should know better. Apart from the requirement for lights and reflectors, none of these are mandatory – with lights required only when it is dark. In fact, most of them aren't even mentioned in the Highway Code at all, while the recommendation for reflective material on the helmets runs contrary to most helmet manufacturers' safety guidelines too.
"These sort of ill-thought out actions do far more harm than good. GMP Denton should take note from forces like West Midlands Police on how best to encourage safe and responsible cycling, while also addressing the real dangers on our roads, namely irresponsible and dangerous driving."