Nimke beats Sir Chris's kilo record to take gold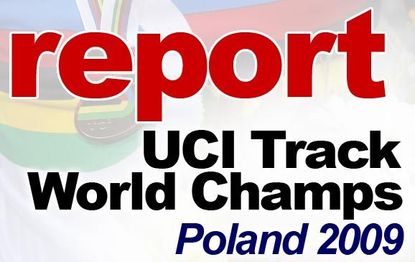 The Hub - The home for all CW's track worlds coverage
Friday's live coverage>>>
Swipe to scroll horizontally
Stefan Nimke broke Sir Chris Hoy?s sea level record for the kilometre time trial to take the gold in Poland tonight.
His time of 1-00.666 bettered Hoy?s 2004 time of 1-00.711 and put him almost a second clear of second place Taylor Phinney, the American who won the pursuit title the night before.
Both riders had approached the event in a different way to the rest of the field, one which could change the way event is now ridden. According to Hoy, who text messaged a journalist at the velodrome with his take on the ride, Nimke rode with a bigger gear and took the first lap ?easy?.
This theoretically means the rider is less tired towards the end of the ride, and can therefore continue to push the bigger gear.
Nimke was only 12th fastest after 250 metres, Phinney was 25th, although as more of an endurance rider this isn?t too surprising. By the third lap Nimke had hit his stride and was posting the second fastest splits. Only Phinney was going faster, but Nimke?s cushion from the first 250m was enough to see him home.
Britain?s David Daniell finished seventh having ridden a very different schedule. The Teesider was the fastest man after 500m having smashed his personal best over that distance, and held on to second after 750m.
But the fourth lap proved just a little too much and his final 250m was the 22nd fastest. ?Obviously when you go out that hard you end up paying for it over the last bit,? he said afterwards.
?There?s a lot of ways to ride the kilo. If you start slow you?re saving energy which means you don?t pay for it as much in the last lap. If you?ve got someone who went through 500 fast they?re going to pay for it and slow down, so that?s where they?ll make their gains.
?I use the kilo as a stepping stone to get my basic strength and find my way in to the sprint and keirin. Fortunately but unfortunately I?m in the best team in the world and you do have to be Olympic champion just to get in to the sprint and keirin in this team.?
Just being here had been some achievement for Daniell after he had four weeks off his bike throughout January having been struck down my a virus. ?On new years eve I got out of the bath and was then really struggling to breath. I ended up on a drip in hospital for two days. My immune system just hit the floor.
?I came back in and it took me a few weeks. I rode Copenhagen [world cup] was a good second off my PB, and from there I?ve just been getting better and better with PB?s over short distances.?
Results: Kilometre time trial
1. Stefan Nimke (Ger) 1-00.666
2. Taylor Phinney (USA) 1-01.611
3. Mohd Tisin (Mas) 1-01.658
4. Michael D?Almeida (Fra) 1-02.034
5. Scott Sunderland (Aus) 1-02.144
6. Teun Mulder (Ned) 1-02.209
7. David Daniell (GBr) 1-02.316
8. Kamil Kuczynski (Pol) 1-02.356
9. Quentin Lafargue (Fra) 1-02.669
10. Edward Dawkins (NZl) 1-02.685
11. Yevhen Bolibrukh (Ukr) 1-02.860
12. Tim Veldt (Ned) 1-02.886
13. François Pervis (Fra) 1-02.976
14. Wen Hao Li (Chn) 1-03.287
15. Miao Zhang (Chn) 1-03.427
16. Michael Seidenbecher (Ger) 1-03.479
17. Yondi Schmidt (Ned) 1-03.480
18. Yudai Nitta (Jpn) 1-03.655
19. Adrian Teklinski (Pol) 1-03.887
20. Clemens Selzer (Aut) 1-04.077
21. Tomas Babek (Cze) 1-04.281
22. Filip Ditzel (Cze) 1-04.319
23. David Alonso Castillo (Esp) 1-04.398
24. Nikolay Zhurkin (Rus) 1-04.494
25. Gadi Chaid (Rsa) 1-04.942
26. Juan Peralta Gascon (Esp) 1-05.823
27. Yuriy Tsyupyk (Ukr) 1-06.206
28. Azikiwe Kellar (Tri) 1-08.981
2009 UCI TRACK CYCLING WORLD CHAMPIONSHIPS
Follow Cycling Weekly on Twitter>>
RACE REPORTS
The CW Hub: Track World Championships index
Women's team pursuit: Britain clinch gold
women's team sprint: Reade and Pendleton score silver
Men's scratch race: Cavendish marked out of contention
Men's individual pursuit: Phinney wins gold
Men's team sprint: France beat Britain
Men's Points Race: Newton gets bronze
Women's individual pursuit: Houvenaghel beaten to silver
500m TT: World record for Krupeckaite, bronze for Pendleton
NEWS AND FEATURES
Track worlds day one: steady start for team GB
Why there's no Brit in the individual pursuit
No individual pursuit for Britain at track worlds
No room for complacency in British Cycling: Iain Dyer interviewCavendish in the frame for Scratch race world title bid
2009 Track Cycling World Championships preview
Crampton set to fill Sir Chris Hoy's team sprint spot
2009 World Track Champs GB squad named
Hoy to miss world track champs
Track World Championships: British medal winners
CW's Dummies' Guide to Track Racing
PHOTOS
GB RIDER PROFILES
Men
Jonathan Bellis
Steven Burke
Mark Cavendish
Ed Clancy
Matt Crampton
David Daniell
Ross Edgar
Jason Kenny
Chris Newton
Jamie Staff
Women
Lizzie Armitstead
Wendy Houvenaghel
Victoria Pendleton
Shanaze Reade
Joanna Rowsell
Jessica Varnish
RECENT RESULTS
International track results last season: 2007-2008
International track results this season: 2008-2009
2008 TRACK WORLD CHAMPIONSHIPS LINKS
Full results from the 2008 track worlds
Report: Sunday, day five>>
Report: Saturday, day four>>
Report: Friday, day three>>
Report: Thursday, day two>>
Report: Wednesday, day one>>
EXTERNAL LINKS
Track Cycling World Championships 2009 official website
Thank you for reading 20 articles this month* Join now for unlimited access
Enjoy your first month for just £1 / $1 / €1
*Read 5 free articles per month without a subscription
Join now for unlimited access
Try first month for just £1 / $1 / €1