Nottinghamshire County Council condemn 'unsafe bike lane' graffiti
Local MP warns it's "only a matter of time" before a cyclist is killed on a bike lane in the Chilwell area of Nottingham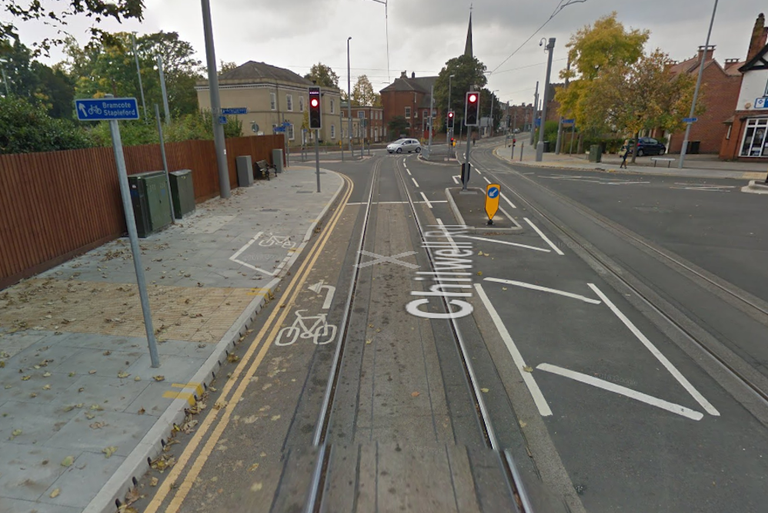 Nottinghamshire County Council has condemned the graffiti added to a bike lane symbol which marks the lane out as 'unsafe'.
The spray-painted markings, which reads 'unsafe bike lane' appeared underneath the bike symbol on Chilwell High Road, south west of the city of Nottingham.
According to the Nottingham Post, concerns have been raised about the bike lane's safety in the past, with several cyclists reportedly injuring themselves on the adjacent tram tracks.
"The county council is aware of safety concerns from local cyclists using High Road, Chilwell/Chilwell Road, Beeston and has therefore been working with all interested parties, including local cycling groups, to better understand these concerns and how they may be addressed," Neil Hodgson, the county council's service director for highways, told the Nottingham Post.
"This work is ongoing but additional warning signs have recently been put up advising cyclists to take extra care along this section of road.
"The county council does not encourage anyone to make a point in this fashion which is essentially vandalism."
>>> Activists paint 'unsafe cycle lane' on Sydney streets to highlight safety issues
Broxtowe MP Anna Soubry is one of those who has raised concerns over the safety of the cycle lane, saying that it is only "a matter of time" before a cyclist is killed on the stretch.
While the County Council are responsible for highways in the Chilwell area, it was Nottingham City Council who was behind the expansion of the tram network to the area.
The Post reports that the council is in the process of designing road safety signs to make all drivers and cyclists aware of the bike lane.