PEDALTECH TEAM RELEGATED TO CONTINENTAL STATUS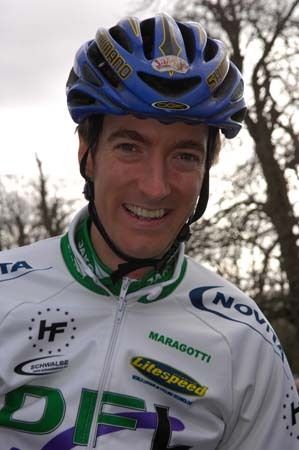 The British-registered Pedaltech team that was sponsored by DFL in 2007, has been forced to downgrade the size of the team for 2008 after the UCI refused to give the team a Professional Continental licence.
The UCI awarded Professional Continental licences to 21 teams for 2008 but Pedaltech were refused because their application was incomplete. The team made an appeal and held talks with the UCI before Christmas but were again refused a licence. Under UCI rules the team will now have to apply for a Continental licence via British Cycling.
The relegation to the lower ranks means the team will not be able to compete in major races as planned and even their chances of riding in the Tour of Britain are at risk.
The Professional Continental team had 19 riders in its planned line-up including 2004 Tour of Flanders winner Steffen Wesemann and six British riders lead by Daniel Lloyd (pictured). The British riders will probably still be included in the new smaller set-up but some riders will not get a place.
Main sponsor Pedaltech will continue to support the team but the role of Belgian management that includes former professional Eric Vanderaerden, Nico Mattan and Johan Museeuw now looks tenuous after they botched the licence application.
?We were turned down for Professional licence and the reason I?ve been told is that we didn?t meet the necessary deadline,? Pedaltech owner Mike Matts and main backer of the team told Cycling Weekly on Monday.
?It?s a set back and a kick in the teeth but we?re going to go ahead with a Continental team and we?re determined to get our Professional licence back for 2009. We were the only team to give a full bank guarantee for the riders? wages but unfortunately we were refused a licence and I don?t fully understand why.?
?Obviously not getting the Professional licence means things are going to change. Exactly what happens will be clearer this week after meetings in Belgium but all the riders know and have been given the possibility to sign with other teams if they want to.?
?I intend to keep the British riders and I?ve already spoken to British Cycling about getting a Continental licence. Hopefully we can still get a place in the Tour of Britain because that would be a major goal for us and there are lots of races out there that we can ride. I?m determined to stick with the team and build gradually. We?re not looking to ride the Tour de France in the next three years but want to grow and improve and be a good team, especially in Britain.?
RELATED LINKS
DFL is dead. long live Pedaltech
Nick Collins: "I've no regrets about DFL team"
Thank you for reading 20 articles this month* Join now for unlimited access
Enjoy your first month for just £1 / $1 / €1
*Read 5 free articles per month without a subscription
Join now for unlimited access
Try first month for just £1 / $1 / €1