Peter Sagan: 'Rainbow jersey or not, I have to keep training'
Peter Sagan says that he is not going to rest on his laurels, and is aiming to hit the 2016 season in peak form for the classics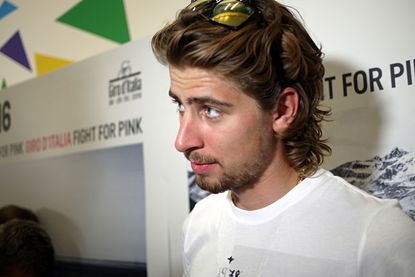 (Image credit: Gregor Brown)
Newly-crowned world champion, Peter Sagan (Tinkoff-Saxo) recognises that he still will have to sacrifice his life to remain on top.
The Slovak won the World Championships road race last weekend in Richmond, USA. He sat through the 2016 Giro d'Italia presentation near Milan today and rushed to the Malpensa airport to board a flight for Abu Dhabi, where he will debut in his new rainbow jersey on Thursday.
>>> Peter Sagan in full world champion's kit – and he's gone for white shorts
"It's not about the rainbow jersey or not, it's not like you have this T-shirt and you are stronger," Sagan said.
"You have to keep training, keep sacrificing your life, and you can be good afterwards. I'm very proud of this jersey. I can wear it, and I'm also very happy to race in it, I want to and I'll keep fighting for the best possible results."
>>> Peter Sagan: In Slovakia, my private life is nonexistent
Sagan sat through one hour of the presentation. The organiser called him on stage to sit with other stars, but he mostly looked bored and uninterested.
Though he won the rainbow jersey, he appeared the same Peter Sagan with little to say but always ready for a laugh.
"I'm really psyched about he Giro, I want to go for the general classification. No, I'm joking. That's a stupid joke," explained Sagan.
Sagan looked to be wearing a new, and large, gold chain necklace partly tucked under his white T-shirt. He appeared the most casually dressed of the stars in attendance, but just as serious about his racing plans.
>>> Nibali vs Sagan: Who is the best descender? (videos)
After the Worlds title, he wants to add what is lacking in his palmarès: a monument. Milan-San Remo, the Tour of Flanders and perhaps Paris-Roubaix will be on his 2016 checklist. Those classics, and the smaller ones like E3 Harelbeke, will be the focus of his early season.
"Yeah, for sure. If I'm going to race, I want to do the classics. [Winning a monument is] what I want to do, I was a lot of times second, third, fourth, and first in some other races. I think those are good races for me. I have to try."
Sagan will race for the first time in the rainbow jersey in the Abu Dhabi Tour, which runs from Thursday through to Sunday, but he said that he is ready to switch off after 2015 and the biggest win yet.
"It's very hard [to be world champion], but also it's very nice. I hope after this week, it'll be better. I want to relax and rest after the season."
Thank you for reading 5 articles this month* Join now for unlimited access
Enjoy your first month for just £1 / $1 / €1
*Read 5 free articles per month without a subscription
Join now for unlimited access
Try first month for just £1 / $1 / €1