Pit yourself against Team Sky riders in a time trial around Silverstone race track
Team Sky riders have set their best times around Silverstone and you can try and beat them at Operation Smile's charity time trial challenge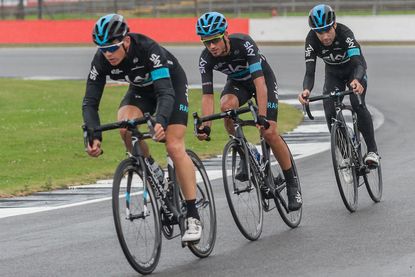 (Image credit: Sean McGuire)
You've seen the Formula 1 cars racing round Silverstone, but have you ever wondered what it would be like to cycle round the iconic circuit?
The Silverstone Time Trial Challenge, which raises money for Operation Smile, is giving amateurs the chance to pit themselves against times set by Team Sky riders, top triathletes and members of the Land Rover BAR America's Cup sailing team over the course of a lap.
You'll be hard pressed to better the times of Sky riders Ben Swift, Philip Deignan and Beñat Intxausti, with Swift topping the leaderboard in a time of 6-56 for the 5.8km lap.
The charity event offers riders the chance to compete in either a one-lap time trial, 10mi or 25mi individual time trial, or a 25mi team time trial around the traffic and pothole-free circuit in Northamptonshire on October 2.
The event is also targeted at families, with a Family Lap available for riders of any age and a leisure ride for riders over the age of eight, ensuring that those who don't want to go hell for leather can also enjoy the day.
>>> Hayley Simmonds smashes her own 10-mile time trial record
"Do some short efforts for the time trial and be ready to enjoy it as you're going to be riding on a traffic free, pot-hole free roads on one of the most famous race tracks in the world," said Swift.
Athletes' single lap times
Triathletes
Richard Stannard: 09:16.3
India Lee: 08:21.0
Jonathan Heasman: 08:29.3
Mel Wilkins: 08:39.1
Hannah Kitchen: 08:32.6
Stuart Hayes: 08.24.4
Emma Pallant: 09:12.7
Mandy Border: 10:45.1
Michelle Dillon: 09:24.1
Land Rover BAR
Bleddyn Mon: 08:50.6
Jon Wood: 09:40.5
Simon Grindley: 09:16.9
Russ Corn: 08:51.1
Team Sky
Philip Deignan: 07:16.4
Ben Swift: 06.56.7
Benat Intxausti: 07:10.9
Thank you for reading 20 articles this month* Join now for unlimited access
Enjoy your first month for just £1 / $1 / €1
*Read 5 free articles per month without a subscription
Join now for unlimited access
Try first month for just £1 / $1 / €1