Plowman Craven strike first in Girvan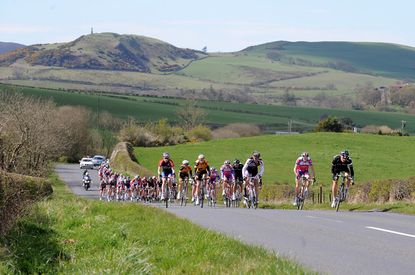 Photo gallery from the Girvan>>>
Tom Murray struck the first blow at the Girvan today taking a sprint win from the leading group of seven riders.
The Plowman Craven rider swept up Simon Richardson (Rapha Condor) and team mate James Millard in the final metres after the two had sneaked away from the lead group.
?I haven?t been feeling that well all day long? said a delighted Murray after the finish. ?It was a pretty active first stage but we covered all the moves. Me and James got in the move at the end and played it out perfectly."
"James got away with Simon and I thought they were going to stay away," Murray added. "But Pete [Williams] committed himself to bring it back and I just managed to have the legs to come round him at the end. Pete was hanging on pretty well, I?ll give him that but I just managed to get him. Finally won one! I?ve had about 10 seconds this year. Good day out.?
It was Richardson and Millard that had a small advantage coming in to the final straight. But the two were swallowed up as a trio of Murray, Williams and [Martin] Bialoblocki came clear in the final metres. Murray came round the outside to take the stage from Williams and Bialoblocki.
Today's first stage was a 61.9 mile route around South Ayrshire. The stage passed through Turnberry where the Open Golf Championship will take place this year before heading up to Ayr and returning south back to Girvan via Maybole and Dailly.
A short 14 mile circuit back out of Girvan, which included the KOM of Byne Hill, put a sting in the finale of the stage which finished back at Girvan?s Victory Park.
It was at the hot spot sprint immediately before the final circuit that the race deciding move got away. A seven strong group that included Richardson, Williams (CandiTv Pinarello), Andy Tennant (Halfords Bikehut), Tom Murray (Plowman Craven Madison), Millard, Darren Barclay (Arctic Premier) and Bialoblocki Sports Beans) quickly got 27 seconds and increased there advantage over the Byne Hill climb.
Murray will wear the race leaders yellow jersey as the race continues this evening with stage 2 a 16.5 mile criterium based around Victory Park in Girvan.
Results: Girvan, stage one
1 Tom Murray (Plowman Craven Madison)
2 Pete Williams CandiTV Marshalls Pasta Pinarello RT)
3 Martin Bialoblockski (Sports Beans Willier representing composite Seconds Count Team)
Sprints Competition
James Millard (Plowman Craven Madison)
KOM Competition
Tom Murray (Plowman Craven Madison)
Overall classification
1 Tom Murray (Plowman Craven Madison)
Tom Murray dons the first yellow jersey of the Girvan. The 40th edition of the race.
Today's podium. Photo's by Andy Jones.
RELATED LINKS
Girvan 2009: The big preview
British race calendar 2009
Thank you for reading 20 articles this month* Join now for unlimited access
Enjoy your first month for just £1 / $1 / €1
*Read 5 free articles per month without a subscription
Join now for unlimited access
Try first month for just £1 / $1 / €1