Pooley wins women's Fleche Wallonne; Cooke second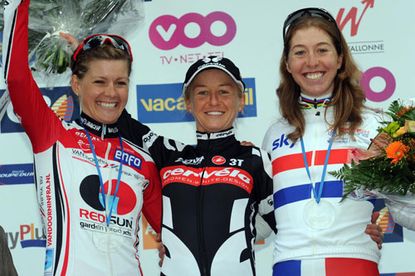 Great Britain made a remarkable scoop of the two top places in the women's Fleche Wallonne on Wednesday, with Emma Pooley (Cervélo) scoring a lone victory ahead of three-times winner Nicole Cooke (GB).
Pooley took off on the steepest section of the Mur de Huy on the second and definitive ascent of the notoriously tough final climb, a little earlier than instructed but which ensured she could celebrate the fourth World Cup win of her career in style.
Sixth in the same event two years ago, the Cervélo rider said later that her team had been responsible for her coming to the Mur as rested as possible and ready to strike.
"I have never got to the end of a race having done so little work," she said later. "I didn't have to do anything at all."
"We had a really good team, really any of them could have won today. I wouldn't have won today if all my other team-mates hadn't been so tired from chasing down the breaks."
"All I had to do was the last kilometre. Really it was them who won the race!"
At the head of the pack as they approached the 'S' bend, Pooley said she had attacked a little earlier than instructed "because I was really impatient and a bit nevous I might fall off my bike in all the excitement!"
"So I went a bit early, and I had a gap but you never know. It's only three hundred metres from there but it feels like miles."
Pooley's victory ends Dutchwoman Marianne Vos's three-year stranglehold on Fleche Wallone, and is the fourth British win in the race's 11 year history.
It's Pooley's first big win of 2010 after taking a series of high-profile victories in 2009 including the Grande Boucle, the women's Tour de France.
La Fleche Wallonne Feminine is the fourth round of the nine-round UCI Women's World Cup road race series. Current World Cup leader Marianne Vos (Netherlands) came home in sixth. The win moves Pooley up to fourth in the World Cup standings, with Cooke in fifth.
RESULTS

La Fleche Wallonne Feminine 2010: Huy-Huy 109km

1. Emma Pooley (GB) Cervelo in 3-01-27
2. Nicole Cooke (GB) Great Britain at 8secs
3. Emma Johansson (Swe) Redsun Cycling Team at 8secs
4. Grace Verbeke (Bel) Lotto at 12secs
5. Evelyn Stevens (USA) HTC-Columbia at 17secs
6. Marianne Vos (Ned) Nederland Bloeit at 22secs
7. Tatiana Gunderzo (Ita) Team Valdarno at 22secs
8. Elena Berlato (Ita) Top Girls Fassa Bortolo at 27secs
9. Judith Arndt (Ger) HTC-Columbia at 40secs
10. Eleonora Patuzzo (Ita) Safi Pasta Zara at 42secs
Other
11. Sharon Laws (GB) Cervelo at 44secs
42. Katie Colclough (GB) Great Britain at 2-20
63. Emma Silversides (GB) Redsun Cycling Team at 5-11
75. Lucy Martin (GB) Great Britain at 5-22
89. Emma Trott (GB) Great Britain at 5-31
World Cup standings after round four

1. Marianne Vos (Ned) 155 points
2. Grace Verbeke (Bel) 114
3. Emma Johansson (Swe) 101
4. Emma Pooley (GB) 82
5. Nicole Cooke (GB) 78
Related links
Emma Pooley: Rider Profile
Thank you for reading 20 articles this month* Join now for unlimited access
Enjoy your first month for just £1 / $1 / €1
*Read 5 free articles per month without a subscription
Join now for unlimited access
Try first month for just £1 / $1 / €1