Church asks congregation to pray to stop cycle lane that would 'cause more harm than the Luftwaffe'
Priest worries about speeding cyclists threatening bridal and funeral processions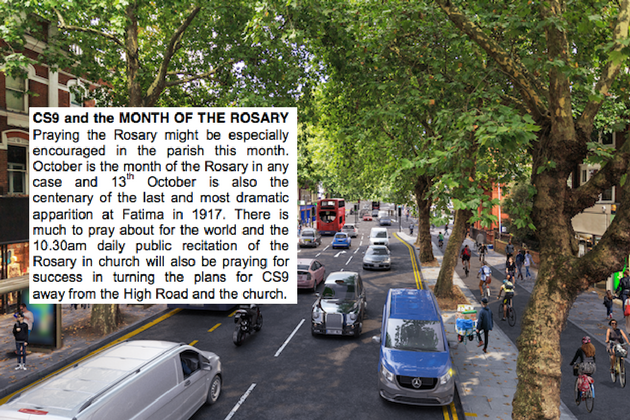 A church in west London is urging its congregation to join in prayer to stop the Cycle Superhighway 9 being built on the road outside.
In its October newsletter the Church of Our Lady of Grace & St Edward in Chiswick said that "praying the Rosary might be especially encouraged in the parish this month" with one particular subject in mind.
"There is much to pray about in the world," the newsletter continues, "and the 10.30am daily public recitation of the Rosary in church will also be praying for success in turning the plans for CS9 away from the High Road and the church."
>>> Dangers of cycling in London highlighted by film of a month's worth of commuting (video)
Transport for London is currently consulting on the construction of CS9, a proposed segregated cycle route, along Chiswick High Road in front of the church.
The cycle path would narrow the pavement in front of the church, with access across the cycle path to the front of the church provided by a signal-controlled pedestrian crossing. Parking at the the church would also be improved through the creation of seven new pay and display parking spaces.
Writing in the newsletter, Father Michael Dunne said that the public space outside the church would be "snatched away" by the new proposed new cycle path. A post on Facebook also said that the cycle path would mean no right of way for coffins at funerals or brides at weddings, with speeding cyclists threatening the elderly and families with children gathering outside the church after Sunday Mass.
Father Dunne also talked about the church had lost its roof during bombing in the World War Two, going on to write that TfL's "state-sponsored, tax- payer-funded plans would do our community more harm by removing our capacity for a bridal procession, funeral procession and every other public expression of our Christian identity than the Luftwaffe managed with its wartime bombs."
>>> NHS could save £1.7bn if Londoners cycled each day, latest figures claim
CS9 is proposed to run from Kensington Olympia to Hounslow, and is part of the Mayor of London's "Healthy Streets" initiative which aims to reduce pollution in the capital and encourage people to walk, cycle or take public transport as part of more active and healthier lifestyles.
TfL is currently consulting on the plans, with construction expected to begin in late 2018.