Dangers of cycling in London highlighted by film of a month's worth of commuting (video)
Journalist filmed his London commute every day for a month, and made a compilation of the dangers faced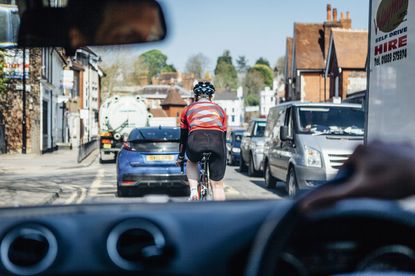 (Image credit: catchpole)
The dangers facing cyclists in London have been highlighted in a film made by a journalist, who captured his cycle commute every day for a month.
Business Insider journalist Leon Siciliano edited together footage of all of the dangerous incidents he witnessed while riding to and from work in the British capital city.
The compilation features film of pedestrians stepping out in front of him, close passes, near misses, vehicles and cyclists jumping red lights, and vehicles pulling out of side junctions into his path.
>>> A knee-jerk 'dangerous cycling' law isn't the solution to Britain's road problems
In one section a double-decker red bus pulls into the side of the road, seemingly oblivious that a cyclist is there.
There's also film of a tipper truck turning left just after overtaking a group of cyclists riding on the inside.
From the footage, it appears as though Siciliano managed to evade being knocked off, despite a close brush with a taxi.
The video finishes with the words "stay safe on the roads!".
Thank you for reading 20 articles this month* Join now for unlimited access
Enjoy your first month for just £1 / $1 / €1
*Read 5 free articles per month without a subscription
Join now for unlimited access
Try first month for just £1 / $1 / €1