PROTOUR TEAMS ISOLATE DISCOVERY CHANNEL OVER BASSO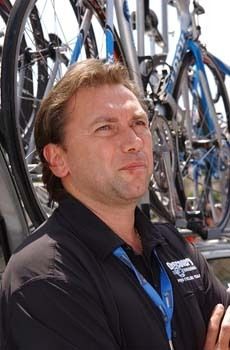 Another war of words has broken out in cycling after the International Professional Cycling Teams (IPCT) association decided to kick out the Discovery Channel team for breaking their code of conduct and signing Ivan Basso.
The IPCT, that includes all the leading teams except La Francaise des Jeux, decided to take action against Discovery Channel during a special meeting in Brussels on Friday and also demanded the UCI limit the number of ProTour teams to 18 in 2007 and refuse to give Manolo Saiz, Swiss manager Marc Biver and Unibet.com licences.
The association is angry with Discovery Channel team manager Johan Bruyneel because he signed Basso despite a gentleman?s agreement not to sign any rider involved in Operacion Puerto.
?It?s a question of respecting the rules. The code of conduct is clear: a ProTour team can?t sign riders implicated in Operacion Puerto?,? one of the members of the IPCT said after the meeting.
The Tour de France and Giro d?Italia have already made it clear they would let Basso ride their races in 2007 but the decision of the IPCT teams could spark a boycott or protest within in the sport, creating further division and arguments in a moment when unity and agreements are so badly needed.
Johan Bruyneel did not attend the meeting in Brussels because he is at the Discovery Channel training camp in the USA with Ivan Basso and other new riders. A lawyer for the team was present but Bruyneel made it clear he would not be intimidated by the decision of the IPCT.
?It?s clear we?ve got enemies but if someone has decided to do this as a kind of mission, they should know that I?ll also go all the way,? he told La Gazzetta dello Sport on Saturday.
?There is a lot of talk about Basso and Ullrich but why didn?t anybody come out against Lampre who have signed Caruso or Euskaltel and other teams who have riders in similar situations? When we?ve read the report from the meeting, we?ll decide about taking legal action.?
Quick Step team manager Patrick Lefevere is the head of the IPCT. Speaking before the meeting to the Belgian La Derniere Heure newspaper he perfectly summarised the current situation in professional cycling: ?It?s like a war, everybody is fighting everybody else and everybody wants to gain something??
Thank you for reading 20 articles this month* Join now for unlimited access
Enjoy your first month for just £1 / $1 / €1
*Read 5 free articles per month without a subscription
Join now for unlimited access
Try first month for just £1 / $1 / €1