Ride With... Hinckley Cycle Racing Club
Celebrating its 70th year, this fun-for-all club has a bright future - Photos by Andy Jones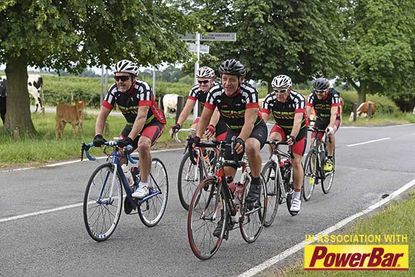 (Image credit: Andy Jones)
Based: Hinckley, Leicestershire
Members: 125
Formed: 1947
Meets: Club runs take place every Sunday at 8:30 from Regent Street. Go Ride sessions for 5-16 year olds, take place every other Saturday afternoon in Triumph Motorcycles' car park for a small fee of £2 for non-members and £1 for members. Ladies' leisure rides and coaching sessions run at the same time as the Go Ride sessions. The club 10-mile time trials take place on Tuesday nights from early April until early September on the K41/10 course near Wolvey.
Contact: www.hinckleycrc.org | Facebook: www.facebook.com/hinckley.crc
"I'm building up an appetite," Hinckley CRC club member Barry Hodgkinson tells me as he pulls an extra long turn on the front of our ride through the quiet lanes of south Leicestershire. The reason for his extra effort is that today marks the beginning of the club's 70th anniversary celebrations with a hog roast in a local pub later this afternoon.
"I'll have to add a bit on tomorrow's ride to burn it off too," he laughs. "I usually try to clock up 100 miles per week, although I don't race these days, I stopped when I got to 80," he continues.
"It's because of you the first half of the ride was up to a 16mph average, Barry!" shouts today's run leader Steve Noel from behind, "we normally stick at around 14mph."
"I suspect that's why he added heart attack hill in," scoffs Hodgkinson.
>>> Find a cycling club near you
The climb he's referring to was an unexpected lump in what has otherwise been gently undulating terrain. "I can't believe I rode that hill," grins new club member Hannah Noel. "It's the hardest hill I've ever ridden. In fact today is also the furthest and fastest I've ever ridden too".
Milestone
Noel goes on to tell me that she only started riding a bike six months ago, which makes her 50 miles today a real milestone.
"She's made such an improvement in such a short space of time" praises Steve. "We had the faster paced club run groups as most of the club race, but it can sometimes feel a bit intimidating to new members, so we set up the social rides, which means that we have a planned ride every week, about 25-30 miles at a steady pace to inspire confidence in new riders, or help people get fit after time off the bike, although some just come for the social pace and cake stops."
Despite the club's racing pedigree, I get the impression that cake stops are very important to its members; various coffee shops and tea rooms are pointed out along the way on today's club run.
"Club run routes aren't set in stone," says club member Mark Bingley, but we decided to map some of the standard rides so riders can get an idea of the sort of rides we do. We have eight routes on the website to download — all of which have a different cake stop, and of course we had to recce them all," he laughs.
"Pre-devised routes also help us keep to the really quiet lanes, as we have so many we hardly touch main roads." There is no denying that the club has done a really good job of limiting traffic interaction, having had much of the roads to ourselves all morning.
"We also keep the groups to a maximum of 10 riders, so it's easier to keep together and we're not overwhelming the roads for other users," explains Hinckley CRC press secretary Nicola Alexander.
"We're very fortunate that we have lots of volunteers to lead the rides, and we're able to keep the Go Ride sessions for the kids completely traffic free thanks to Triumph Motorcycles, who let us use its car park for free once the factory finishes on a Saturday afternoon. We run it every other week, actually there's one on today which I suspect will be well attended with everyone wanting to build up an appetite for this afternoon's festivities."
"Not too much of one, I hope," Hodgkinson pitches in, knocking it down a couple of gears and picking up the pace. "I'm first in the queue..."
History
Hinckley CRC started life in a garden shed in 1947. There was no local cycling club to Hinckley at the time, so eight local riding buddies, including Trevor Page, decided to form one, with membership swiftly exceeding 50.
Membership in the early days was just a few shillings, so many of the original members used their own funds to get the club off the ground. Originally the club was named Hinckley CC, but local press often reported about the local cricket club's cycling achievements, so it was changed to CRC to help avoid the confusion.
The Hinckley CRC was first affiliated to the National Cyclist Union, before switching allegiances to the British League of Racing Cyclists, which allowed the club to road race and, at one stage, promote four road races a year.
Founder member Trevor Page recalls that the move from Union to League split the club in half, and membership dropped to just 25. Some members did eventually return, but the move was popular with local riders and many new members joined.
Hinckley CRC has always ridden in the club colours of green and red, since it was first registered with the League, although their origin isn't known. Over the years the club has largely remained un-sponsored, with just one short-term benefactor several years ago. The club funds have predominately been raised from membership, which is now around 120 members, and annual event promotion.
Achievements
Ronald J Cook of Hinckley Cycling Club was selected to ride the 1948 Brighton to Glasgow, a six-day stage race, but sadly crashed out with a broken wrist.
A young Harry Whitford finished sixth in the Junior National 10-mile Time Trial Championships in 2013, with a time of 22-37, missing a medal by just eight seconds.
In 2014 club member Pete Draper piloted partially sighted Joe Widdowson to win the VI Tandem National Series.
Hinckley CRC promoted the National 10-mile Time Trial in 2015, won by Richard Bussell, with Matt Clinton second and Matt Bottrill third.
Hinckley club run
Ride highlights
1 Saddington Reservoir to Gumley
Compose yourself as you pass the reservoir at the bottom, before the road suddenly snakes sharply upwards for a lung-busting climb, known as Heart Attack Hill.
2 Foxton Locks
It's easy to just whizz over the Grand Union Canal on the downhill run, but pulling over you'll see the 200-year-old Grade II listed locks.
3 Tur Langton
The Anglo-Saxon village is pure chocolate box Blighty, with thatched roofs and The Manor House that dates back to the 1600s, and also home to the excellent Mint and Ginger Coffee House.
Favourite cafe
Mint and Ginger Coffee House. Situated in the idyllic courtyard of The Manor House, in the village of Tur Langton. The menu boasts everything from healthy salads to sausage sandwiches, to doorstep-sized cake slices. There's not loads of indoor seating, but outside space is plentiful with lots of room for bikes. Tel: 01858 540424
Thank you for reading 20 articles this month* Join now for unlimited access
Enjoy your first month for just £1 / $1 / €1
*Read 5 free articles per month without a subscription
Join now for unlimited access
Try first month for just £1 / $1 / €1