Ride With... Montvelo Cycling Club
A tough Sunday run with the recently-formed Montvelo Cycling Club, which has the North Sea for company - Words by Trevor Ward | Photos by ABOYNEIPhotographics LTD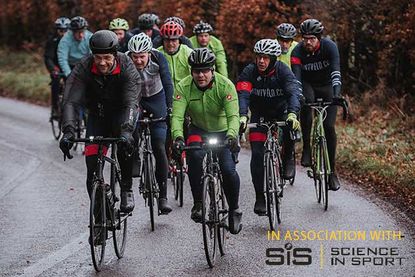 From: Montrose, Angus
Members: 104
Formed: 2017
Meets: Sundays, 9 am, and Wednesdays, 6.30 pm, both from Lidl car park, Brechin Road, Montrose
Contact: www.montvelo.cc | Facebook: MontveloCC
The unofficial slogan of Montvelo CC is that membership makes everything "82 per cent better", but that doesn't apply to the Scottish weather as we meet in freezing rain on a December Sunday morning.
Club treasurer Dougie Glen drove the route last night, and has taken the decision to shorten it, leaving out the highest and most remote stretch that is likely to have succumbed to ice.
Caution will still be the name of the game though, and many of the 30-plus riders have turned up with hi-vis and flashing lights. We are divided into two groups before threading out of the handsome coastal resort of Montrose and into the rolling Angus countryside.
Night shift to gear shift
Elaine Banks has arrived straight from her night shift as a nurse at the local hospital, but her enthusiasm as a recent convert to road cycling is undiminished.
>>> Find a cycling club near you
"I was a runner, but I tried road cycling for the first time when I borrowed a friend's bike in April," she says. "I liked it so went out and bought the exact same model and I've been hooked ever since. It's great getting out in the fresh air but being able to cover bigger distances than I ever could running. It took me a while to pluck up the courage to join the club as I didn't think I'd be fast enough, but they have been really friendly and welcoming."
The other female member out today, Teresa Buchan, is also an evangelist for road riding. "I used to ride a hybrid because I was always put off by the funny-shaped handlebars on road bikes," she says.
"But I did my first charity ride wearing trainers — that was 93 miles — and instead of laughing at me, the club encouraged me to do the extra seven miles for my first century."
Now a full convert to clipless pedals, Teresa was named the club's Most Improved Rider at its inaugural awards dinner.
About 10 miles into today's ride there's an accident when Ian Anderson discovers black ice on the steep camber of a gutter. Fortunately, he's OK — "I was more concerned about bringing down anyone behind me" — and is soon telling me how he joined the club:
"I was out riding with a friend one night when this other rider waved us down and told us he was setting up a club and did we want to join. That turned out to be Andy [Inglis, chairman], and what struck us was his enthusiasm and how he said it would be a club for all levels. So we joined."
Dougie Glen suffers a flat just before the start of the day's big climb, and Bill Muir wonders what the etiquette is on such a cold day. Eventually, it's agreed that a couple of riders will stay behind with Glen while the rest of us keep warm by starting the ascent.
"Hopefully I can get a PB," says Muir. "I like to compete with myself, improving my times on Strava, but with the club it's more about the social side. With the club rides, you can find a group that suits your pace or test yourself and find a faster one."
Counter attack
Back in Montrose at the cafe, 17-year-old Harris Porter, one of three youth riders out today, suddenly finds himself on the other side of the counter. He works there part-time and is now being called upon by manageress Rosie to bring out some more chairs.
"For me, it's all about the freedom of being on the road," he says. "None of my mates cycle; being a member of the club means I've got company when I want it."
>>> Ride With… Ogmore Valley Wheelers
History
The club's history may be short but its rapid growth — 102 members had signed up within its first six months — has impressed Scottish Cycling. "Their regional development officer, Martin Harris, has been in touch, so we will be putting together plans to offer youth development and attract more females," says club secretary Julian Foley.
The club was born from an informal weekly ride called the Montrose Chain Gang, organised by Foley and Andy Inglis. "But people started taking it too seriously and it all got out of hand," says Foley. "So me, Andy and a couple of others sat down and said, 'Why don't we start our own club?'"
A Facebook page was set up and if Inglis, the club chairman, saw any riders out on the road, he would flag them down and tell them about the club.
"We want to be recognised as a club that promotes inclusivity," says Inglis. "We want people to feel welcome no matter what their skill level, gender or age, encouraging more people to take up cycling locally."
The club is also keen to promote a healthy relationship between cyclists and other road users. One recent new recruit was shocked to discover he'd previously had an altercation with Inglis when he'd been driving his car. "I've never had anyone apologise to me so much," laughs Inglis.
"He'd got out of his car and confronted me. He was telling me that now he was a cyclist he understood completely that he had been in the wrong."
The club's kit is the work of graphic designer Erik Porter, who says he was inspired by the "clean, classic simplicity" of kits like that worn by the likes of Team Sky. Club members seem to approve, as they placed more than £13,500 worth of orders in the first six months.
Achievements
2017: Bruce Tait, John Simpson and John Brown cycled the North Coast 500 route in six days.
2017: Vicki Woodburn was second in her age group and sixth female overall in the Monikie Duathlon.
2017: Club ambassador Scott Murray completed the Lang Way Doon — cycling the length of Scotland, 325 miles, in under 24 hours.
2017: Matt Howe, third overall in the Aberdeen Wheelers midweek handicap road race series.
2016: Stephen Campbell and Allan Dickson completed a double century, raising money for Alzheimer's Scotland.
2015: Douglas Glen, first in the Isle of Man sportive.
2014: Peter Forbes completed the Club des Cinglés challenge — the three ascents of Mont Ventoux — in eight hours, raising £3,500 for charity.
Montvelo CC club run
Ride highlights
1 Ferryden to Farnell
A fast stretch — nicknamed a "4.9TT" on Strava — that is the perfect leg-warmer at the start of the ride. It also offers great views across Montrose Basin towards the distant hills.
2 B966
Another fast and straight section along a quiet stretch of road. The lack of traffic and endless views across the Mearns are what social cycling is all about.
3 Garvock Hill
A testing 3km drag that offers great views back down to Laurencekirk. It's also favourite to host the club's inaugural hill-climb competition later this year, says secretary Julian Foley.
Favourite cafe
One of several local businesses that support the club by offering discounts to members, the Pavilion is an old-school, intimate cafe offering a selection of breakfasts, home-made soups, cakes and scones. It is situated in attractive gardens and has tables and seating outside. The Pavilion Cafe, Melville Gardens, Montrose, DD10 8HG
Thank you for reading 20 articles this month* Join now for unlimited access
Enjoy your first month for just £1 / $1 / €1
*Read 5 free articles per month without a subscription
Join now for unlimited access
Try first month for just £1 / $1 / €1