Ride With... Godric Cycling Club
Owen Rogers meets a lively Suffolk cycling club that's as busy as ever - Photos by Andy Jones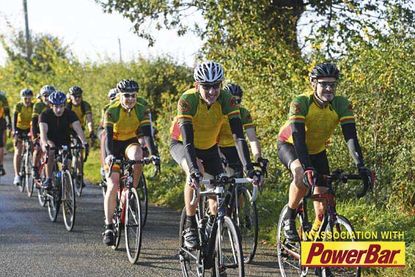 (Image credit: Andy Jones)
From: Bungay, Suffolk
Members: 140
Formed: 1953
Meets: Old Butter Cross, Bungay, 9am Saturday mornings, 7.55am Saturday mornings. Time trials are each Tuesday through the summer at various locations.
Website: www.godriccc.co.uk | Twitter: @godriccycling
Stoke Holy Cross village hall is buzzing with chatter occasionally punctuated by the chink of teacups or plates loaded with food.
Amongst the laughter there are also a few curses and coughs as Godric Cycling Club members recover from the efforts of their annual hill-climb. The special atmosphere brings a smile to almost every face.
Decent challenge
East Anglia may be largely flat, but Long Lane is tough enough to provide a decent challenge and fuel plenty of post-race banter. Add the ride out from the club's home town of Bungay and the cake is
well earned, especially as there is still the ride back to be dealt with before the Suffolk club's members go their separate ways.
They won't be apart for long though — Godric is one of the busiest clubs around, with rides on most days of the week throughout the season.
"We do have a pretty full calendar," says club secretary Allan Bell. "We run training rides on Wednesdays where we do a mixture of chaingang and sprints aimed at the middle people who want to get quicker.
>>> Find a cycling club near you
"Thursday nights is the fast chaingang, and the other training ride we do is on Saturday morning. They're named after train times because the first route they did was to Euston near Thetford. So we have the 7.55 and the 7.57, which is very popular with the lady members," Bell concludes.
There are also Friday rides for some of the club's older members, the 50-80 mile Sunday club runs, and of course the Tuesday evening time trials.
Time trial heritage
When they formed during one of British cycling's heydays, time trialling was a staple for Godric's competitive youngsters. They started with 10, 25 and 50-mile races and still run open events at each of those distances.
Barry Minns was present at the first, then won the second and third before rising to become one of East Anglia's best. "When I first joined the club we were all 15 years old," he says after riding to the hill-climb. "When we started getting into open events we realised how bad we were, but we gradually built up. We were racing three times a week, a grass track on Saturday, a road race on Sunday and a time trial in the week."
Though the time trials remain important to the club, and some members race the crit series at the nearby Lotus test track, a recent surge in membership has not brought more competition.
"The Godrics have a history of time trialling and we mustn't ever lose that," Bell says. "We have a good reputation from our racing pedigree, but I think it helps to try to promote a more modern image, make it a little more inclusive, and spread the range of activities."
>>> Ride With… Brighton Excelsior Cycling Club
With a woman as a founding member, inclusivity is part of the Godric tradition. "There were about 10 women when I joined," explains Nikki Holland-Gladwish, one of nearly 30 female members. "We do things together and we are quite competitive, but in a supportive way. And when we meet people we ask them to come along with the Godrics, so it is self-fulfilling."
From its headquarters in rural Suffolk, Godric has become a thoroughly modern outfit while managing simultaneously to retain tradition and older members. Marshalling events, catering for races, even offering to organise a road race, the older riders happily lead
the club.
Placing his cup back on its saucer, 79-year-old Minns concludes, "It's a big part of me; it's one of the best things I have done in my life."
History
Godric CC was born behind the steamed windows of Bungay's Market Tea Rooms in February 1953. The meeting of local cyclists had been called by George and Daphne King, enthusiastic riders who had moved to the Suffolk town from Caterham in Surrey.
Though 30 locals were present at that inaugural meeting, the membership of the club stood at 18 when they first met for the club run at the Old Butter Cross, the same place they meet to this day.
Named after the owner of the land the town's castle was built on, Godric believe they are the only British cycling club whose name connects them to Saxon England.
The desire for competition flowed through the veins of the mainly young membership, and the club's first race was a 10-mile time trial staged on the Bungay straight, towards the nearby town of Halesworth. The only competitor with previous racing experience, Peter Roe, won, but it was Barry Minns who began his illustrious career soon after.
Still a member and now approaching his 80th birthday, Minns won the 25 and 50 which soon followed, and helped build the club's rich time trialling base which survives to this day.
The club has expanded rapidly in recent years, increasing from fewer than 50 just five years ago, to 140 now, and while time trialling remains important, members take part in all types of road cycling. Perhaps reflecting Daphne King as one of the founding members, there are nearly 30 women among the members.
Achievements
Probably the club's most successful racer, Barry Minns was a big name in the 50s and 60s. He had triumphs in time trials of all distances, was an accomplished grass-track racer and has numerous road wins to his name.
In 2015 Ian Eaton completed his own Three Peaks challenge, riding 1,280 miles from Bungay
to Ben Nevis, Scafell Pike and Snowdon.
Geoff Maine is one of a number of older riders who are part of the 300,000-mile club. He ranks 16th on the list with over 500,000 miles ridden.
Another high-mileage rider, John Pugh, held 24-hour TT age group titles, with 429.9 miles his best.
Godric CC club run
Ride highlights
1 Edge of the Broads
Just a few feet above sea level, you ride on the edge of the Norfolk Broads. The roads are narrow, but the villages and views across the wetlands make this a perfect place to saunter.
2 Woolner's Lane
More than one and a half miles of gentle climbing through tree-sheltered lanes, this is a beautiful road. Ride it easy and avoid the carpet of acorns, or open it up and challenge yourself.
3 Long Lane
Two hills in one, this is the Godric CC annual hill-climb route. It's not pretty and there can be traffic, but it is challenging, especially when the 5-9 per cent ramps are tackled quickly.
Favourite cafe
Godric visit many cafes, but for the hill-climb self-catering was the order of the day. John Pugh prepares the food for all the club's events at numerous village halls. Various cakes, biscuits and savoury filled rolls are served up along with teas and coffees at Stoke Holy Cross village hall.
Thank you for reading 20 articles this month* Join now for unlimited access
Enjoy your first month for just £1 / $1 / €1
*Read 5 free articles per month without a subscription
Join now for unlimited access
Try first month for just £1 / $1 / €1