Ride With... Brighton Excelsior Cycling Club
James West rides with a friendly club keen to encourage young riders - Photos by Daniel Gould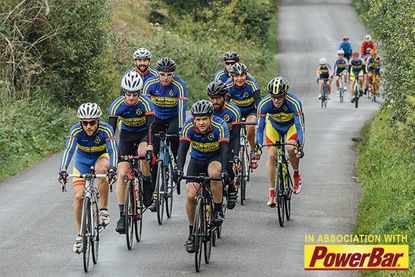 (Image credit: Daniel Gould)
Based: Shoreham-by-Sea
Members: 150
Formed: 1921
Meets: Red Lion, Shoreham by Sea, BN43 5TE.
The Red Run, the main ride of 45-50 miles at medium pace every Sunday, has a 9am departure. The Blue Run, a gentler ride of 35-40 miles every other Sunday, also sets off at 9am. Every Sunday from October to April there is a higher-speed Black Run, with an 8:30am departure.
Website: www.brightonexcelsior.co.uk | Twitter: @brightonexcel
"We used to be considered a bit of a rabble, but we are much more structured these days." Martin Naylor, communications director for Brighton Excelsior CC (BECC), says before we set off on the Sunday club run. "Rides used to be 130-mile affairs, on and off roads, with a pub stop at lunch and in the evening," Bob Harber, club chairman, confirms.
Despite that glimpse into the past, I could be forgiven for expecting a fairly gentle ride out when Alan Redman arrives for the Red Run on his Moulton Speed, which Naylor jokingly describes as a "suped-up shopping bike". However, it becomes clear that wheel size is no impediment to Redman's speed: it turns out he has completed a number of tough events on that bike.
"I only joined the club six months ago, as I often thought clubs could look a bit menacing when they are racing along, but I'm really glad I joined, as they are such a brilliant bunch of people," he explains.
The A27 blocks the coastal meeting point from the South Downs, but a wooden footbridge across the River Adur and a crossing controlled by traffic lights, with immediate access to the leafy Coombes Road, means there's no need for riding along bypasses here.
That relaxed atmosphere continues throughout the ride, and the aim of inclusivity is often apparent. Many of the club members focus on triathlon, and have joined the club to improve the cycling discipline. The first three riders I speak to on the day, Mark Potter, Lydia Jordan and Claire Buckley, are all triathletes who welcome the challenge of a 50-mile ride at a good speed and the benefit it brings to their cycling.
>>> Find a cycling club near you
When Jordan, who hasn't been out on the bike for a few weeks, gets dropped on a rise just outside Barns Green, 25 miles in, everyone happily stops to wait for her. As Naylor says, "Brighton Excelsior is a friendly cycling club. People are welcome to join our rides and they won't get dropped. Our ethos is to try and help everyone to become a better cyclist and get more from their cycling, competitive or otherwise."
At the end-of-ride cafe stop, I meet 17-year-old Jack Churchill, who originally joined BECC's youth section, VC Jubilee. Jack had just got back from the Black Run, a 60-plus mile route with an average speed of over 30kph — the first one of the winter. About 12 people joined the run on this occasion as a number of other riders were taking part in the cyclo-cross at Herne Hill.
During the summer Churchill is more regularly found racing the junior circuit. "I raced Tom Pidcock and was close to him on the final climb on one race, but he just kept going when we got to the top, while I blew. The club is great for young riders."
Chris Hodge, youth coach and a club member for 10 years, is keen to highlight the benefits of the youth section. "A few years ago, numbers on the club run were low, sometimes as few as six on the Sundays. But we had some initiatives aimed at young riders, and that side of the club has bloomed. A number of parents have also joined the club as a result of their children being involved. We're in a good place now."
>>> Ride With… Buxton Cycling Club
One of those parents is Ros Greene, mother of 2015 junior Madison champion, Amy Smith, who I ride with while a digger looms on the 15 per cent ramp of Coombes Road. It's little surprise to see Ros struggling — she's also a swimming teacher and has done an hour of lessons before the club run this morning!
As members attack the undulating three miles of Coombes Road in a good-natured charge to the finish, the camaraderie of the club shine though once again: Claire Buckley, one of the triathletes, has a loose rear wheel, so a number of members help to attach it, despite knowing they won't be first back to the cafe. Inclusivity has won the day, and it feels like it's standard procedure at BECC.
History
Brighton Excelsior CC was formed in 1921 when members approached their work-mates at engineering firm Allen West Limited, and asked them to join.
Club runs covered up to 135 miles on and off road, long before mountain bikes were invented; and in 1948, a club run often included stops for elevenses, lunch, 'threeses' and tea!
During the first half of the 20th century, the club had a number of bases across Brighton, but by the early 1970s club membership languished in the single figures.
The club has just passed 100 members, and is closer to 150 members once the youth section, VC Jubilee, is accounted for. VC Jubilee became a part of BECC in 1998, and is based at the Adur Outdoor Activity Centre. The club rides started to centre on The Red Lion, Shoreham, in the 1990s.
Past Champions
BECC's greatest achiever is Freddie Grubb, an Olympic double silver medallist in the 1912 individual and team road races in Stockholm, Sweden.
More recent champions include Amy Smith (a former VCJ member), who became national women's Madison champion in 2015, and Peter Mitchell, a 2007 world junior sprint champion and multiple UC para-cycling world champion, who also began his riding with VC Jubilee.
Former club members Mark Emsley, Anthony Rogers and Zak Corum Haines won at the Brompton World Championships at Goodwood in 2014. Emsley beat former pro riders to claim a second consecutive solo victory in London, 2015.
Achievements
Steve Kane has six victories in the club TT series.
BECC's three-man TT squad won the SCA 50 in 2016.
Jack Churchill has won the SCA Junior BAR 3 years running.
Jez Parsons won the Sussex Vet 50 CX League in 2016.
Lawrence Coyle won the Junior CX event at Herne Hill this month and was second in the regional road racing championship.
Club chairman Bob Harber has completed the Paris-Brest-Paris randonnée and London-Edinburgh-London Audax.
Simon Madison finished Paris-Brest-Paris in 2015 in 59 hours 31 minutes.
Alan Redman completed these rides on his Moulton: Fred Whitton Challenge 2015; Dragon Ride 2016; La Marmotte 2016.
Brighton Excelsior club run
Ride highlights
1 Coombes Thrash
The last 5km is the final stretch of Coombes Road. Members either chase Strava trophies or give their legs some recovery.
2 West Chiltington
A typical West Sussex village, with tree-lined roads, minimal cars and a number of small ramps to keep you in and out of the saddle.
3 Copsale
A gentle climb of 1.5 miles with a maximum gradient of five per cent leads to a quick descent over a two-mile stretch of tree-lined roads.
Favourite cafe
Cafe stops are normally saved until the end of the ride. BECC are looking at moving the meeting point to Shoreham Airport next year, for a safer start and better facilities. The Hummingbird Cafe has a great menu, and overlooks the runway. Tel: 01273 452300
Thank you for reading 20 articles this month* Join now for unlimited access
Enjoy your first month for just £1 / $1 / €1
*Read 5 free articles per month without a subscription
Join now for unlimited access
Try first month for just £1 / $1 / €1