ROLLER RACING COMES TO MANCHESTER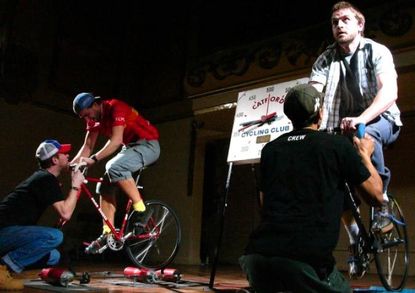 After the success of the recent Rapha Roller Races in London, the people behind them are launching a new event in Manchester next month.
The Rollapaluza Manchester Sprint takes place on Saturday, December 8, at the Central Skatepark, Ancoats. Like the Rapha events, this modern take on roller racing is fairly informal with the emphasis on fun and entertainment - complete with DJs and licensed bar.
The roller action commences at 7pm, where riders will spin out in a seeding run to set the fastest times. The quickest riders move on to the next round, knocking out those that they beat. With a £500 prize pot up for grabs, the racing will be fast and furious.
Entry is £5 to the event, which includes race entry if you want to get up on stage and expend some energy. Part of the proceeds go to the British Heart Foundation charity.
The Manchester Sprint is supported by Odaban, PAC bags and Bicycle Messenger Service MCR.
As well as the Manchester event, Rollapaluza have also organised the IX-MAS roller race at Waterloo Action Centre, London, on Saturday December 15.
EXTERNAL LINKS
www.rollapaluza.com
RELATED LINKS
Couriers cash in at Rapha Roller Race
Rapha Roller Race series kicks off on Nov 17
Thank you for reading 20 articles this month* Join now for unlimited access
Enjoy your first month for just £1 / $1 / €1
*Read 5 free articles per month without a subscription
Join now for unlimited access
Try first month for just £1 / $1 / €1