Social media reacts to 'Tour de Celeb' cycling reality TV show
Channel 5's new cycling reality television series kicked off on Monday night, as eight celebrities started to train for the Etape du Tour. Here's what people thought of it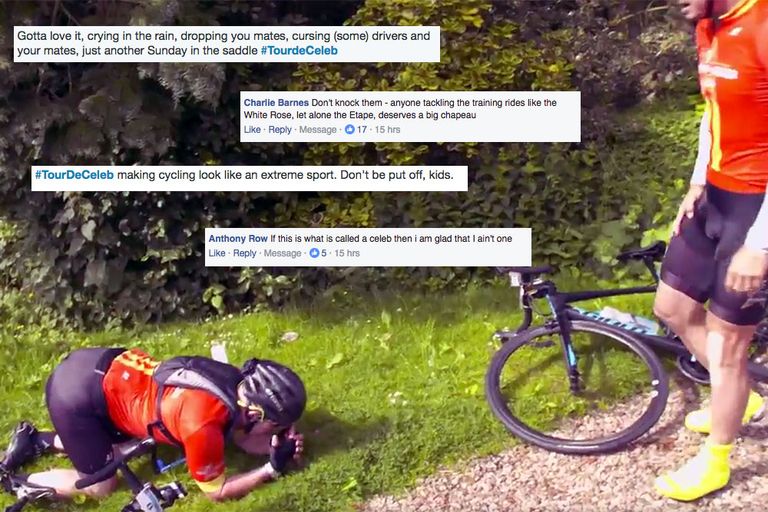 Despite the rising popularity of cycling in Britain, it's still a rare sight to see the sport on mainstream television. So it's no surprise that Channel 5's new series, Tour de Celeb, has created a lot of interest among cyclists and non-cyclists alike.
The basic premise is that eight celebrities have two months in which to train and prepare for the mountainous Etape du Tour in France. Naturally, the show promised thrills, spills and a few tears - and on that front, it did not disappoint.
Reaction to the show among cyclists has been generally positive, although a few have questioned some of the training methods. Others have questioned the celebrity status of the celebrities, and others have dismissed it as ****.
>>> Last night's 'Tour de Celeb' reality TV show was cycling, but not as we know it
Reality TV stars Hugo Taylor and Lucy Mecklenburgh, choreographer Louie Spence, presenters Jodie Kidd and Angellica Bell, and sports stars Austin Healey, Darren Gough and Amy Williams are the eight personalities taking on the Etape.
Even before they got going, it was clear that the difference in fitness was huge – but that is going to be part of the appeal of this four-part series.
Many of the situations experienced by the participants are all to familiar to cyclists: trouble with clipping in and out; riding in traffic and with a large group of others; running out of energy on a long ride; and being dropped by your so-called mates.