Last night's 'Tour de Celeb' reality TV show was cycling, but not as we know it
Channel Five's cycling reality TV show follows eight TV and sporting personalities as they prepare for the Etape du Tour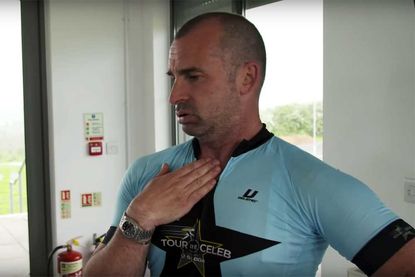 (Image credit: Channel 5/Skoda)
The biggest surprise is that it took so long. In a world that has already seen celebrities take on ballroom dancing, diving and even ski jumping, we finally come to road cycling.
On Monday night – perhaps in homage to the 40th anniversary of that time Kevin Keegan wobbled off his bike on Superstars – Channel 5 brought us Tour de Celeb, in which eight 'personalities' from the worlds of TV and sport train for the Etape du Tour.
Cue the usual cries of "call these celebs?!". Having presumably failed to persuade Justin Bieber, Sir Anthony Hopkins and Barack Obama, we instead get reality TV stars Hugo Taylor and Lucy Mecklenburgh, choreographer Louie Spence, presenters Jodie Kidd and Angellica Bell, and sports stars Austin Healey, Darren Gough and Amy Williams.
The eight are put through their paces by ex-pro Rob Hayles, Paralympic multi-champion Dame Sarah Storey and sports scientist Asker Jeukendrup during a four-part series to take them from (in most cases) barely novices to hardened cyclists who can take on the 122km Etape.
Wobbling uncertainly into view come a host of reality TV clichés. "This will be the hardest challenge of my life," says England and Lions star Healey without an apparent trace of irony. Ex-Blue Peter presenter Bell kicks off the episode by telling us that she wants to make her children proud, which means you know immediately that she is going to spend the next hour falling off and crying her eyes out.
The principal challenge – beyond a gruelling 20-minute FTP test, a completely pointless muddy assault course or even spending time in the company of Louie Spence – actually turns out to be riding clipped-in, as the riders take it in turns to topple over, in some cases alarmingly close to passing traffic.
You can imagine that 'celebs falling over' was an essential part of the pitch of this series but fair enough... we've all been there. Safety concerns aside, it's actually quite nice to see these beginners gradually get bitten by the cycling bug, and platitudes soon give way to some genuine enthusiasm from most of the participants.
Bambi-eyed famebot Mecklenburgh turns out to be the pick of the beginners and – like every cyclist in the history of mankind – is soon taking obvious glee at being faster up the hills than her companions. Meanwhile the three actual sports stars, Healey, Williams and Gough, treat a Peak District sportive like it's a race to the death in an all-too-familiar exhibition of completely unnecessary competitiveness. Welcome to cycling, everybody.
>>> Riding the 2017 Etape du Tour? Here's what you've got to look forward to (video)
In the end, this series represents pretty much the opposite of what you'd do if you wanted to introduce a friend to the lifelong joy of cycling. Put under a load of pressure for absolutely no good reason, they are repeatedly told that what they are about to do is basically impossible, they overtrain, and they fall off in traffic and scare themselves witless.
In a nutshell, someone needs to tell poor Bell that instead of beasting herself on a 100km sportive when she can barely turn the pedals in the first place, she could just go for a nice gentle bike ride instead. Has she ever tried an espresso and a nice slice of lemon drizzle? It's bloody lovely, and it's very unlikely to make you cry.
If this appears to be just a bunch a wannabe celebs falling over and blubbing into the camera – and it definitely is that – it isn't entirely pointless. When they're all up at the crack of dawn to go for morning rides, that's something that all of us can relate to. Watching people discover the joy of cycling can't ever be so bad... even when they're Louis Spence.
Tour de Celeb continues on Channel 5 next Monday at 7pm.
Thank you for reading 10 articles this month* Join now for unlimited access
Enjoy your first month for just £1 / $1 / €1
*Read 5 free articles per month without a subscription
Join now for unlimited access
Try first month for just £1 / $1 / €1