Sprint School at Manchester Velodrome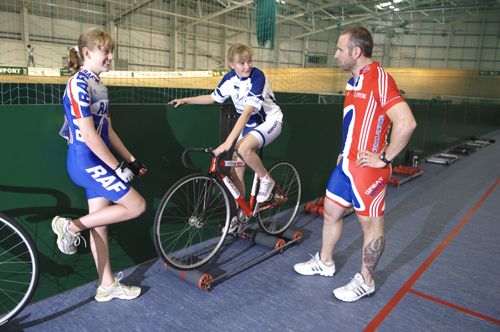 The DHL Sprint School moved to Manchester for the third event of the series on Friday April 17.
But it was business as usual for the long-standing youth initiative, which aims to bring a unique track sprint coaching experience to 11-15 year olds. The event, traditionally held at Newport Velodrome, now splits its dates between the two facilities to ensure that riders from around the country get the opportunity to attend.
The last DHL Sprint School was attended by reigning National Road Race champion, Rob Hayles and rising sprint star, Jess Varnish. Hayles, who rides for Team Halfords Bikehut on the road, has ample track experience at National, Commonwealth, Olympic and World Championship level. The 36-year-old said of the DHL Sprint School: ?If only there was an initiative like the DHL Sprint School when I was growing up as a rider. It was my second time at the Sprint School and the programme is constantly striving to develop youngsters in a fun way.?
Combined with the expertise of British Cycling coaches Tim Buckle and Geoff Cooke, Hayles helped deliver the training sessions with a hands on approach. ?The combination of the 200 metre events and the fun skill based games will help create some very talented cyclists that we could see in the next Olympics. But even if the riders just take home their enjoyment and added knowledge, then the Sprint School is definitely worth it,? continued Hayles.
Jess Varnish joined the Olympic Development Plan a year ahead of her age group and quickly went on to European success with gold in the Junior European Championships in 2007. At just 18, she now represents Great Britain on a senior level, while still keeping up her studies at college. ?As always, DHL Sprint School is a pleasure to attend, the kids were all very hard working throughout the day and their improvement from the start to the finish was brilliant. Manchester brought some new faces and I think widening the DHL catchment area will really make a difference to the numbers of young talented sprinters in the UK.?
The DHL Sprint School event had riders focusing on the technique required for the 200 metre event. Riders were encouraged to gain ?free speed? by using the banking on the track and using the right racing lines for the shortest times. The Sprint School participants also had a chance to compete on the WattBike equipment, as well as have a go at the usual sumo skill-based games.
The DHL Sprint School will stay in Manchester for the next date, on Friday April 24, before returning to Newport on the June 26.
For more information on the DHL Sprint School, please visit www.sprintschool.com
Remaining DHL Sprint School 2009 dates
Newport: 26th June / 14th August 2009
Manchester: 24th April / 17th July / 7th August 2009
EXTERNAL LINKS
DHL Sprint School: www.sprintschool.com