St John Ambulance launches First Aid app for cyclists
Mobile application aims to provide cyclists with vital first aid information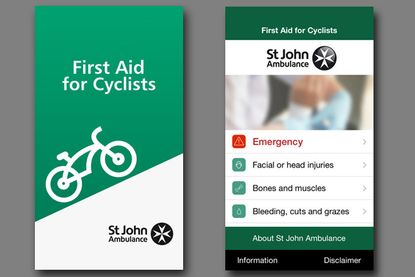 By Chris Marshall-Bell
A free app designed at providing basic first-aid instructions to help injured cyclists has been launched.
St John Ambulance has released the First Aid for Cyclists app after the latest Department for Transport figures revealed that while there has been a three per cent drop in serious cycling-related injuries, there has been a two per cent rise in the number of casualties.
The app aims to equip cyclists with the necessary first aid skills and knowledge so that if required a cyclist can follow the app's instructions. It also explains how bike equipment can function as first aid instruments.
Ashley Sweetland, of the charity, believes the app "should be as essential as a puncture repair kit".
The information on the app comes from medically trained experts and members of the charity's Cycle Response unit, which supports over 100 events each year across London.
The app is available for free from the iTunes app store and Google Play.
Thank you for reading 20 articles this month* Join now for unlimited access
Enjoy your first month for just £1 / $1 / €1
*Read 5 free articles per month without a subscription
Join now for unlimited access
Try first month for just £1 / $1 / €1