Steele Von Hoff fractures four vertebrae in crash: Commonwealth Games in doubt
Australian Steele Von Hoff crashed during evening criterium and now has a race to recover in time for the Commonwealth Games in April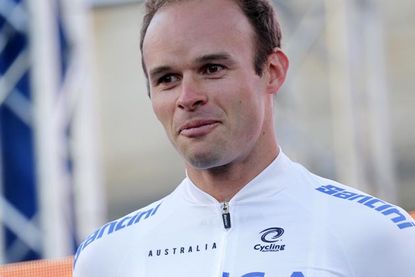 (Image credit: Yuzuru Sunada)
Steele Von Hoff has fractured four vertebrae in a crash on the same day that it was announced that he would represent Australia at the Commonwealth Games in April.
The 30-year-old from Victoria says that he suffered the injury after crashing during an evening criterium race in Melbourne.
The former Garmin-Sharp and One Pro Cycling rider now races for the Bennelong SwissWellness Cycling Team. He posted a photograph via his Instagram account of himself in a neck brace giving a thumbs-up in hospital.
"Well Tuesday was a roller coaster... from highs to lows!" wrote Von Hoff.
"Took a tumble at Sandown and ended up in the @thealfredhospital with 4 cracked vertebrae. Road to recovery for @commgamesaus begins now! Let's see if I can channel my teammate pull off a Mat Hayman!
"Thanks to all the staff at Alfred Hospital for the Royal Treatment!"
Von Hoff's reference to Mat Hayman relates to the 2016 season, when Hayman bounced back from a fractured arm to win Paris-Roubaix within two months.
>>> Commonwealth Games 2018: Latest news and event info
Numerous fellow Australian riders left messages or support for Von Hoff via a video recorded by Eurosport journalist Aaron S Lee at the Abu Dhabi Tour.
Aussies @RohanDennis @HansenAdam @Mark_Renshaw @CalebEwan @MilesScotson @clarkeywilbur #LachlanMorton & Kiwis @JackBauerNZ & @PaddyBevin wish @CyclingAus's @SteeleVH a speedy recovery for @GC2018 from @Abu_Dhabi_Tour | via @Eurosport @EurosportAUS @Eurosport_UK #homeofcycling pic.twitter.com/RK36CgvHkZ
— Aaron S. Lee (@aaronshanelee) February 22, 2018
Caleb Ewan, Mark Renshaw, Adam Hansen and Rohan Dennis were among those passing on thei best wishes for a swift recovery ahead of the Commonwealth Games.
The 2018 Commonwealth Games are of particular importance to Australian athletes as they take place on the country's Gold Coast over April 4-15.
Von Hoff was selected alongside Hayman, Alexander Edmondson, Mitchell Docker, Callum Scotson and Cameron Meyer to ride in the elite men's road race.
Von Hoff rode in the 2018 Tour Down Under in January, guesting for the UniSA national team. He finished sixth on the final stage behind André Greipel, Elia Viviani, Peter Sagan, Caleb Ewan and Phil Bauhaus.
Thank you for reading 20 articles this month* Join now for unlimited access
Enjoy your first month for just £1 / $1 / €1
*Read 5 free articles per month without a subscription
Join now for unlimited access
Try first month for just £1 / $1 / €1