Steve Abraham in collision with moped during world mileage record ride
Fractured ankle and a plaster cast for long-distance cyclist Steve Abraham after incident in Somerset on Sunday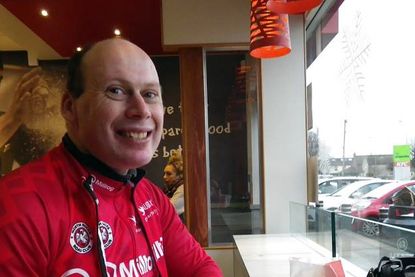 (Image credit: Steve Abraham, Facebook)
Cycling mileage world record hopeful Steve Abraham received a setback to his attempt on Sunday after being involved in a collision with a moped in Somerset resulting in a fractured ankle.
After initially remounting his bike and carrying on, Abraham decided to call it a day in Wellington having started his ride at 6.16am in Exeter, Devon. It was only after a hospital visit that the extent of Abraham's injury was revealed: two fractured bones in his ankle.
Abraham's team made the announcement via social media on Sunday, with Chris Hopkinson writing on Facebook: "I am extremely sad to announce that at approx 8.10am this morning Steve was ridden into by a moped not paying attention to what they were doing. Steve tried to carry but stopped in Wellington.
"He has then been collected by one of the team and taken to hospital. He has incurred two broken bones in his ankle and is currently in plaster. It is looking highly likely that he will require an operation to add a plate and screws."
Long-distance cycling specialist Steven Abraham aims to beat Tommy Godwin's 1939 record of 75,065 miles
At present, it is not clear how this will affect Abraham's attempt to beat the current cycling annual mileage record held since 1939 by Tommy Godwin, a mark of 75,065 miles. Abraham is also facing a current challenge from American rider Kurt Searvogel.
Abraham had already made significant gains on the mileage recorded at the same point in the year by Godwin but he will now have to take an enforced rest. The 40-year-old's has to ride an average of at least 205 miles (330km) per day to beat Godwin.
You can follow Abraham's progress on his website, via Twitter and on Strava.
Thank you for reading 5 articles this month* Join now for unlimited access
Enjoy your first month for just £1 / $1 / €1
*Read 5 free articles per month without a subscription
Join now for unlimited access
Try first month for just £1 / $1 / €1