Summer issue of Cycling Fitness magazine out now!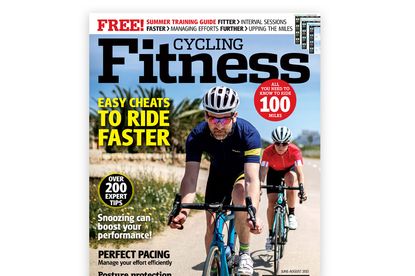 Summer 2015 issue
Cycling Fitness features the latest trends in products, training methods and superfoods, including tantalising recipes to freshen up your diet, as well as in-depth real-life case studies and the usual 12 week training plans for riders of every level.
Cycling Fitness magazine June-August 2015 issue is on sale from Wednesday May 27 at WHSmith, major supermarkets and all good newsagents, priced £4.99
What's in this issue:
Ready to ride
Fitness news
9 summer cycling challenges
How good can I be?
5 ways to make intervals easy
Everything you need to ride a century
Conquering your climbing challenges
Perfect pacing
Do less and go faster
Get more from your training
Sleep: are you getting enough?
5 ways to reboot your training habits
Your FREE training plans
Nutrition
What can virgin coconut oil do for cyclists?
The rise and rise of the smoothie
Summer recipes
Bicarbonate: not such a half-baked idea
Fuelling for a multi-day event
Technique
The 4-step back care plan
5 ways to win a race
The unwritten rules of cycling
4 quick fixes to help you ride faster
Cycling Fitness magazine June-August 2015 issue is on sale from Wednesday May 27 at WHSmith, major supermarkets and all good newsagents, priced £4.99
Thank you for reading 20 articles this month* Join now for unlimited access
Enjoy your first month for just £1 / $1 / €1
*Read 5 free articles per month without a subscription
Join now for unlimited access
Try first month for just £1 / $1 / €1