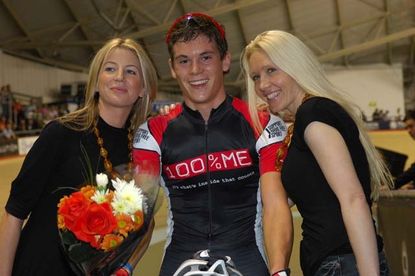 Click here to see a full gallery of photos from Revolution 18, Saturday November 17 2007
Promising young GB Academy member Ben Swift stole the show at Revolution 18 at the Manchester Velodrome on Saturday night.
Sheffield-born Swift, 20, took two victories on the night and just finished second behind Swiss ace Franco Marvulli in the opening Men?s Motor Paced Scratch.
He won the 10km Scratch in a thrilling contest ahead of British Olympic gold medallist Bradley Wiggins and Marvulli.
Then he and 100 Per Cent ME team-mate Jonathan Bellis scorched around four laps to win the 1km Madison Time Trial in a blistering 57.896secs, leaving four other teams of champions trailing in their wake.
Understating his achievements on the night, Swift said: ?It went fairly well. I?ve just had a cold but good news is good news. I made myself a bit of money as well which is always nice.?
Meanwhile, reigning Premier Calendar road champion Chris Newton (Recycling.co.uk), showed his adaptability by taking the 20km Points Race in a three-way battle with Ireland?s David O?Loughlin and Spanish ace Toni Tauler.
The victor was always going to be one of these after they earned a 20-point bonus by lapping the field.
The Englishman sealed the victory in the penultimate sprint, and O?Loughlin was reduced to third as, although he and Tauler finished level on 33 points each, the Spaniard came second in the last sprint and, thus, was given the better position.
* More on the Revolution meeting in this week?s Cycling Weekly
Ben Swift beats Bradley Wiggins in the 10km Scratch. Photos by Andy Jones
Ben Swift and Jonny Bellis in the Madison event, Revolution 18
Great Britain came out on top in the GB vs Spain team pursuit
RELATED LINKS
Full gallery of photos from Revolution 18, Saturday November 17 2007
Bradley Wiggins and Mark Cavendish team up for World Cup Madisons
Thank you for reading 20 articles this month* Join now for unlimited access
Enjoy your first month for just £1 / $1 / €1
*Read 5 free articles per month without a subscription
Join now for unlimited access
Try first month for just £1 / $1 / €1