TALES FROM THE BROOMWAGON: WEDNESDAY, JULY 18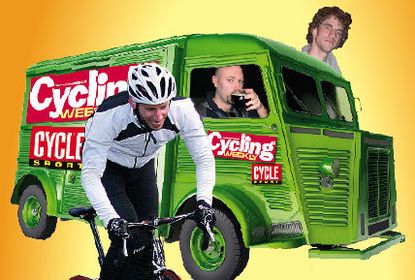 Get The Leadout Newsletter
The latest race content, interviews, features, reviews and expert buying guides, direct to your inbox!
Thank you for signing up to The Pick. You will receive a verification email shortly.
There was a problem. Please refresh the page and try again.
Day 12
Wednesday
Aix-en-Provence - Aix-en-Provence
Everyone at home I've spoken to about this trip has given roughly the same response, ranging from: "You lucky sod," to "And you call that work?".
Contrast that to the reaction of everyone working in some capacity at the Tour who hears we are travelling and living in a camper van. They range from: "You poor sod" to "You must be mad."
The Tour is a great event, the best in the world, and even the relatively boring days, like today, are better than sitting at home in my office trying not to watch daytime television.
Travelling with people who are as passionate about the sport as I am is a joy. Alright, so I may have a reputation as a cynical curmudgeon but I genuinely love the sport - even when certain riders and teams I dislike are doing well.
It's always struck me as odd how fans of cycling are so unlike fans of other sports. While it is seen as fair enough to have favourites it is frowned upon to openly dislike anyone.
But just as I can't bear Tottenham Hotspur (or Middlesbrough and Burnley for that matter), there are certain cycling teams I dislike.
And for every Frank Lampard (or other footballer who provokes my ire) there is a cycling equivalent.
Of course these are purely personal feelings and I don't let them colour my actual reporting. Okay, okay, settle down at the back now.
It's great to have discussions over the dinner table about the day's tactics or the latest political intrigue because they are such a rarity away from the Tour. Put it this way, cycling talk is not a big topic around the dinner table at home or in the pub with friends. One particular friend of mine has a habit of asking: "What's going on in the world of cycling then?" and follows the question with a high pitched "Tring-tring" like the sound of a bicycle bell.
And despite the fact that almost every waking hour is spent doing something related to the Tour - getting to it, watching it, speaking to people about it, writing about it, planning ahead - there is still a sense of missing a heck of a lot of what's going on.
Even if you visit the start to chat to a few people, see the race live, then watch the last couple of hours on television, and read all four pages of L'Equipe's coverage each day, you'll miss something. That's because the race is constantly changing. Every hour, in fact. Yesterday's big story or man of the moment is superseded by today's.
And the problem with the Tour is that it keeps moving. Relentlessly. Within half a day our smugness at speeding on to Aix-en-Provence, cutting off the corner to Marseille, and leapfrogging ourselves ahead of the race briefly had disappeared and we were back to chasing them again.
Having stopped overnight in Aix-en-Provence, at a campsite run by a Debbie Harry look-a-like, we set out for a 40-kilometre drive to St-Maximin to see the race. We arrived in time for lunch and spent a pleasant afternoon watching the race on television and working, interrupted by two brief dashes outside to watch the break, and then the bunch, go by.
Easy.
THE LOWDOWN
Where we stayed: Camping Chantecler in Aix-en-Provence again
Rating: 2 tents
What we ate: Filet mignon de porc, preceded by a nice Pastis as an aperatif
Kilometres driven: 80km (total so far: 1,879km)
PREVIOUS TALES FROM THE BROOMWAGON:
Tuesday, July 17: Naturally it was tempting fate to comment on how smoothly things had been going
Sunday, July 15 and Monday, July 16: Dramatic scenery, flouro shades and cooking your own meat
Saturday, July 14: Fame, fortune and scouring grassy verges
Friday, July 13: Hogged by a sycophantic French television reporter wearing a blue linen jacket
Thursday, July 12: Nearly a week done already. And nothing's gone wrong
Wednesday, July 11: As days following the Tour de France in a lumbering camper van go, Wednesday was about as close to perfect as you can get.
Tuesday, July 10: Back to Pierrefonds, scene of the great missing dinner disaster
Monday, July 9: Half-wheeling, grumpy campsite staff and greasy takeaways
Sunday, July 8: The day when the Tour went to Kent, and the boys went to Ghent
Saturday, July 7: Three men in a sweaty, underpowered van following the Tour
Friday, July 6: Ignore all other imitations - this is the original Idiots In A Camper Van Tour blog
Thank you for reading 20 articles this month* Join now for unlimited access
Enjoy your first month for just £1 / $1 / €1
*Read 5 free articles per month without a subscription
Join now for unlimited access
Try first month for just £1 / $1 / €1
Get The Leadout Newsletter
The latest race content, interviews, features, reviews and expert buying guides, direct to your inbox!
Sports journalist Lionel Birnie has written professionally for Sunday Times, Procycling and of course Cycling Weekly. He is also an author, publisher, and co-founder of The Cycling Podcast. His first experience covering the Tour de France came in 1999, and he has presented The Cycling Podcast with Richard Moore and Daniel Friebe since 2013. He founded Peloton Publishing in 2010 and has ghostwritten and published the autobiography of Sean Kelly, as well as a number of other sports icons.