Team radios should be aired on TV, says Brailsford
Team Sky boss says that allowing TV audiences to hear communications between the teams and their riders would enhance the viewing experience and understanding of cycling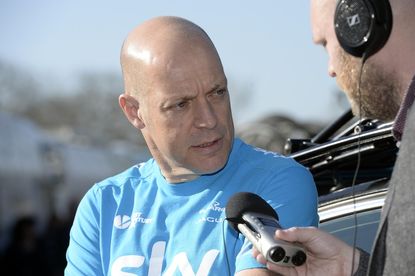 (Image credit: Watson)
Cycling should take a leaf out of Formula One's book and allow TV viewers to listen to radio messages between teams and riders, says Sir Dave Brailsford.
Brailsford told the BBC that he believes the move would help cycling fans to further understand the intricacies of the sport and the tactics that the team's employ mid-race.
"It would be super interesting to hear what the sporting directors are saying to the riders," the former British Cycling director said.
"It's a complex sport. You've got all the sporting directors in the cars trying to play out hundreds of scenarios, like 'who is going to chase?'
"They all wait and watch the gap get to nine minutes, 10 minutes, and then suddenly you think, 'hold on, I might be throwing the Giro away here.'
"I think if everybody knew what each team was trying to do it would be fascinating and add a whole new level of intrigue and understanding."
>>> The best on-bike footage from week one of the Giro d'Italia (video)
UCI president Brian Cookson is another high-profile figure to have previously suggested cycling needs to revolutionise the way it is broadcast. And while the former British Cycling president didn't quite put forward the same notion as Brailsford, he said it was important to find new ways to show cycling on television.
"One of the biggest challenges – not just for cycling, but for many sports – is the need to evolve while staying true to the essence of your sport," Cookson said in 2014.
"In cycling we will look at technology such as cameras on bikes and in team cars to see how they can be used to enhance the viewer experience,"
Team Sky are already part of professional team union Velon, a group which aims to help innovate the way cycling is broadcast and consumed by fans. The 11-member organisation has already struck its first deal, arranging with Giro d'Italia organisers RCS for the use of on-bike camera footage throughout the Grand Tour.
However it has still not been possible to show that footage live in road racing, with TV broadcasters only able to show live on-bike footage in track racing so far.
Inteview with Team Sky rider, Geraint Thomas
Thank you for reading 20 articles this month* Join now for unlimited access
Enjoy your first month for just £1 / $1 / €1
*Read 5 free articles per month without a subscription
Join now for unlimited access
Try first month for just £1 / $1 / €1