The best on-bike footage from week one of the Giro d'Italia (video)
Velon has cut down its reels on on-bike footage from the first week of the Giro d'Italia into a handy bitesize chunk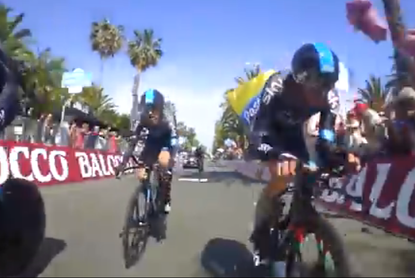 There was great excitement when it was announced that a few stages of this year's Giro d'Italia would feature footage from on-bike cameras, but that was short lived when it turned out the footage was quite dull.
Fear not, however, you don't have to sieve through the minutes and minutes of footage from the first week in search of the best bits because the good people at Velon have edited it down for you.
Squashed into just under two minutes we get to see the best of the footage from the team time trial on the first stage through and the hilly stages between then and Friday.
Under the agreement with Giro organisers RCS Sport, only certain stages featured cameras, and often they were placed on bikes of those riders who weren't really in the thick of the action, but we can still get a feel for the speed of the race based on the rapid way they take the corners.
The team time trial provided some excellent shots of the teams trying to master the tricky discipline, while the rest of the action was highlighted by a Tinkoff-Saxo rider getting a puncture and being pushed off by a slightly portly mechanic.
As an added bonus, we've also got footage from Sunday's stage nine. Enjoy!
http://youtu.be/LXDhTsKogys
The Giro d'Italia continues on Tuesday with stage 10, a 200km sprint stage from Civitanova Marche to Forli.
Thank you for reading 20 articles this month* Join now for unlimited access
Enjoy your first month for just £1 / $1 / €1
*Read 5 free articles per month without a subscription
Join now for unlimited access
Try first month for just £1 / $1 / €1