Orica-GreenEdge's blistering Giro d'Italia team time trial revealed by on-bike video
A camera mounted on Esteban Chaves's bike gives a rider's eye view of Orica-GreenEdge's winning Giro d'Italia team time trial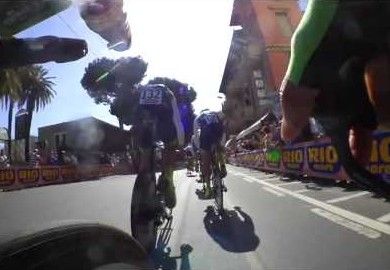 Video footage captured by a camera on board an Orica-GreenEdge bike during the team's winning performance on the opening stage of the 2015 Giro d'Italia on Saturday shows exactly what it is like to ride a team time trial.
The Australian team's Esteban Chaves had a camera mounted on his handlebars, and you see him pick up his bike prior to the stage start before moving to the stage start ramp.
>>> Giro d'Italia's opening team time trial in photos
We're then treated to a roller-coaster ride along the coastal route that ran along a bike path from San Lorenzo al Mare to San Remo with the team putting in a perfectly-executed ride to obliterate the opposition and take the victory.
The squad then rolls into a marquee at the finish, just as they congratulate each other on a job well done. The team's Simon Gerrans took the overall race lead as a result.
On-bike footage will be recorded throughout the Giro by a variety of riders whose teams are part of the Velon organisation. Velon will provide on-board footage to broadcasters during the Giro as part of a deal struck with race organiser RCS Sport.
Thank you for reading 5 articles this month* Join now for unlimited access
Enjoy your first month for just £1 / $1 / €1
*Read 5 free articles per month without a subscription
Join now for unlimited access
Try first month for just £1 / $1 / €1