Team Raleigh officially launched in Nottingham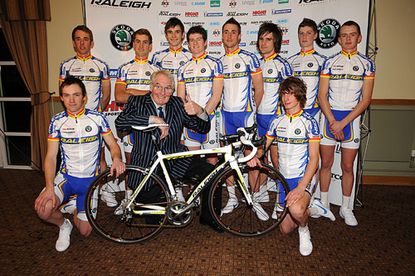 Team Raleigh has officially returned. The new-look British-based team was launched at the legendary bicycle manufacturer's home in Nottingham on Monday.
The team's riders were unveiled at the Eastwood Hall Conference Centre and Hotel in Nottingham, having spent the earlier part of day at the nearby Raleigh factory getting their new bikes and kit.
The evening's proceedings were presented by Eurosport commentator David Duffield, a past employee of Raleigh, and he was on hand to interview the riders up on stage after each had entered the conference suite on their bikes.
The new kit has a modern look but with a hint of the old Raleigh heritage from the eighties when the likes of Malcolm Elliott was sprinting to victories in the colours of the world famous Nottingham brand.
Raleigh have committed to a three year plan with a further two years possible. The ultimate aim is to become a UCI Professional Continental-level team by that fifth year. Team manager Chris Truett, formerly with Kinesis, has assembled a 10-man team with a mix of youth and experience, which still only has an average rider age of 22.
Joining the eight Brits in the team will be Julian Rammler from Stuttgart, Germany, and Pete Smith from Melbourne, Australia.
Goals for the season will be the Premier Calendar, the Tour Series and hopefully an invitation for a ride in the Tours of Britain and Ireland. Truett will also take the team abroad to gain experience and to have the team race in the countries Raleigh deals in.
The team goes out to Mallorca on the February 2 for a two-week training camp before kicking off the domestic season with the Eddie Soens Race at Aintree at the beginning of March.
Team Raleigh 2010
Dale Appleby
Tom Barras
Mike Cummings
Dan Fleeman
Richard Handley
Liam Holohan
Julian Rammler (Ger)
Dan Shand
Pete Smith (Aus)
James Stewart
Team Manager: Chris Truett


Team Raleigh 2010
Dan Fleeman rides in
Dan Fleeman is interviewed by David Duffield
Tom Barras
Team Raleigh
Team Raleigh squad announced
Raleigh team strengthened with signing of Fleeman
Team Raleigh make a comeback
Thank you for reading 20 articles this month* Join now for unlimited access
Enjoy your first month for just £1 / $1 / €1
*Read 5 free articles per month without a subscription
Join now for unlimited access
Try first month for just £1 / $1 / €1