Teenagers bring A12 traffic to a standstill by cycling wrong way up dual carriageway
Callers to the emergency services report two cyclists riding wrong way along central reservation of the A12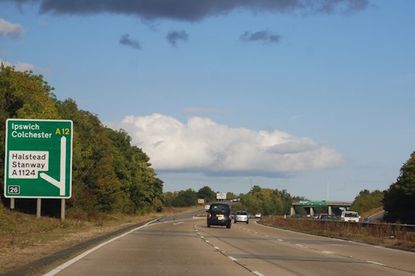 Police officers in Essex were unable to locate two teenage cyclists who were spotted riding the wrong way up the A12 on Monday morning.
An initial report to the police claimed that a cyclist was riding northbound on the southbound carriageway between junctions 26 and 25 at around 9.30am.
Then a second emergency call reported two teenagers riding their bikes along the central reservation against the flow of traffic, according to the East Anglia Daily Times.
According to the Times, police put in rolling roadblocks on the road but were unable to find the cyclists who had been spotted.
>>> M25 cyclist caught on camera returning to motorway after being escorted off (video)
Casualty reduction manager at Essex Police, Adam Pipe, told the paper: "This is totally unacceptable behaviour and not something we want to see. It is shocking.
"I can't imagine what they were thinking. It posed not only a great risk to those riders but also to the travelling public.
"If we had caught them or managed to detect them they may have got more than a few stern words, and there is legislation which could be used to prosecute such as dangerous or careless and inconsiderate cycling."
Thank you for reading 20 articles this month* Join now for unlimited access
Enjoy your first month for just £1 / $1 / €1
*Read 5 free articles per month without a subscription
Join now for unlimited access
Try first month for just £1 / $1 / €1