M25 cyclist caught on camera returning to motorway after being escorted off (video)
The man who was fined by Surrey Police on Thursday for riding along the M25 had already been escorted off the motorway that day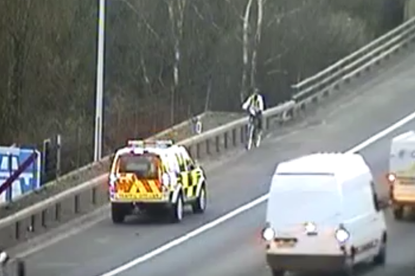 As if being escorted off a motorway once in one day wasn't enough, a cyclist then returned to the M25 a short time after being told it was a little dangerous.
We featured the story of the man on Thursday who was given an on-the-spot fine by Surrey Police, but it turns out that was the second time in a number of hours that he had been stopped.
The video above shows the chap riding THE WRONG WAY down the hard shoulder of the motorway between junctions 11 and 13 anticlockwise before being escorted to safety by an officer from Highways England.
After making his way down the slip road - stopping at a green light and forcing a van to swerve out the way - he was then captured again between junctions 13 and 14 trying to get to Heathrow.
>>> Cyclist caught on camera riding on motorway in Scotland
Quoted in the West Sussex County Times, the responding officer PC Tom Richardson said: "As well as cycling along an extremely busy motorway during the rush hour traffic the cyclist would have also crossed motorway slip roads so it is extremely fortunate that there was not a more serious outcome to his trip.
"The act of cycling on the motorway hard shoulder is clearly reckless and dangerous and the man not only put his own life at risk but other road users too. A cyclist coming towards you on your morning commute on the M25 would be completely unexpected and could cause alarm - another example as to why motorists should remain alert and vigilant at all times."
"If we get reports of people cycling on motorway we will intervene and further action may be taken."
Thank you for reading 20 articles this month* Join now for unlimited access
Enjoy your first month for just £1 / $1 / €1
*Read 5 free articles per month without a subscription
Join now for unlimited access
Try first month for just £1 / $1 / €1