The curious case of Peter Sagan
As Tinkoff-Saxo's Peter Sagan gets older, the harder he is finding it to win. Is he declining or are others catching up to his level? Even his team cannot explain his struggles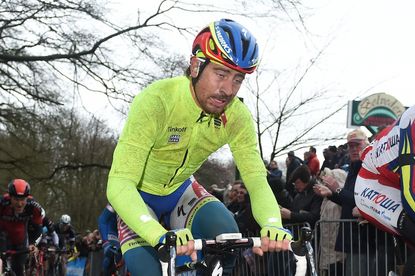 (Image credit: Watson)
Sagan-mania was at its height two years ago in Ghent-Wevelgem. Slovakia's Peter Sagan muscled his way into an escape group, attacked solo four kilometres out and celebrated by spinning an imaginary lasso and riding a one-handed wheelie.
Two years on from 2013, the situation has changed. Instead of thinking of new ways to celebrate wins, he is merely trying to win.
Any victory would be welcome for Tinkoff-Saxo. Over the winter they signed Sagan on a three-year deal through 2017, at a reported €4m (£2.90m) annually, in hopes of reliving some of that Sagan-mania.
"Worried? Of course we'd like to have a victory, but we are not the only team in position fighting for a classic," Tinkoff sports director, Tristan Hoffman told Cycling Weekly.
"Mentally, there's no problem. Peter believes in himself."
Tinkoff-Saxo only won twice so far in 2015: a stage win by Alberto Contador in the Ruta del Sol and one by Sagan in Tirreno-Adriatico.
Sagan's win was his first since winning the June 29 national championships, which was child's play for a man of his talent in a country with little depth. His last international win was a stage in the Tour de Swiss on June 16.
He had never gone so far into a season without a win. And so far, this is his worst season win-wise. The best was in 2013, when he won 22 times, including Ghent-Wevelgem, the Brabantse Pijl, a stage and green jersey in the Tour de France. He also placed second in both the monuments Milano-Sanremo and the Tour of Flanders.
>>> Why the beers are on Peter Sagan this weekend
Mentally, the 25-year-old may not suffer. He is also gaining experience, now racing in his sixth year at the top. He appears to be physically behind, however.
He was strong enough to make the jump with Sky's Geraint Thomas and Czech Zdenek Stybar (Etixx-Quick Step) on the cobbled Kwaremont climb in Friday's E3 Harelbeke classic, but he faded later. When Thomas attacked solo at 4.3 kilometres out, Sagan had nothing left to chase. Instead of holding on for third place, he faded to 30th.
"It's shit because in that group of three he should've been the fastest," Hoffman said.
"It wasn't a hunger flat. That's what you'd think it is, but he said, 'I've been eating and that's not a problem.' but suddenly he went empty."
Sagan rebounded well in Ghent-Wevelgem, a longer classic at 239 kilometres. He attacked and joined the lead groups, but when the winning move went with Thomas, he was unable to chase. He finished 10th, which was a victory in itself because 160 cyclists abandoned due to 50mph gusts and crashes.
"Some riders need to fight for four years to get to a certain level," Hoffman added. "Peter comes, he's the best, but now the others moved up. He's not worse, he's still an extraordinary rider in the peloton."
His former team manager, Roberto Amadio told Cycling Weekly last year after Paris-Roubaix that Sagan needs to wise-up tactically.
"He needs to improve his tactics in the key moments," Roberto Amadio said.
"When it all comes easily – which it seems it did in the last four years – everything seems normal. That moment that it doesn't come easily, you have to rely on experience and on maturity. You have to use your smarts, when to stay on the wheel instead of attacking."
Sagan explained at the start of the season that with wins in smaller classics, he has to start winning the big monuments. Tinkoff-Saxo would have partly paid him that €4m to do so, too.
Adding to the pressure, the Russian/Danish team appears to be crumbling when it should be sturdy.
Three hours after Ghent-Wevelgem on Sunday, Team Owner Oleg Tinkov cut team manager and former owner, Bjarne Riis from Tinkoff-Saxo. He said that he would announce more changes in the coming week.
Of course, if Sagan wins the Tour of Flanders or Paris-Roubaix in the next two weeks, then the situation could turn around quickly.
Thank you for reading 20 articles this month* Join now for unlimited access
Enjoy your first month for just £1 / $1 / €1
*Read 5 free articles per month without a subscription
Join now for unlimited access
Try first month for just £1 / $1 / €1