The Great Boffo cycling cartoon book set to be republished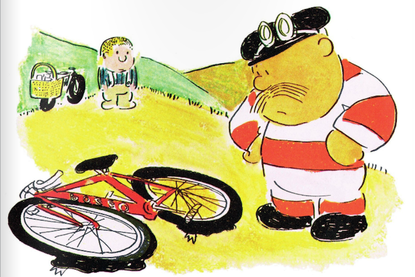 Publisher James Spackman is reviving the classic children's picture book The Great Boffo in time for the 2015 Tour de France, bringing back to life the 1970s cartoon.
First released in 1973 by Frank Dickens, best known for his long-running Bristow cartoon strip, The Great Boffo tells the tale of a boy who wants to cheer on his favourite cyclist, but first has to complete a delivery round on his old bike.
When Boffo suffers a puncture in the race, he has no choice but to use the boy's boneshaker for the rest of the stage and still try to win the race.
Though first written in the 70s, the action has more of a 40s feel, with the mustachioed men on classic bikes a far flung world from today's carbon fibre world.
Spackman, who is publishing the cartoon through his Pursuit imprint, in conjunction with SnowBooks, said: "I'm delighted to be bringing Boffo back. My father used to read this wonderful book to me as a child.
"As a fanatical cyclist myself, I regard Boffo as a personal hero and it is a privilege to introduce him to a new generation."
The Great Boffo will be released on June 29, priced at £14.99 and is available to buy here.
Thank you for reading 20 articles this month* Join now for unlimited access
Enjoy your first month for just £1 / $1 / €1
*Read 5 free articles per month without a subscription
Join now for unlimited access
Try first month for just £1 / $1 / €1