TOUR DE FRANCE 2007: HUNTER FIRST SOUTH AFRICAN TO WIN TOUR STAGE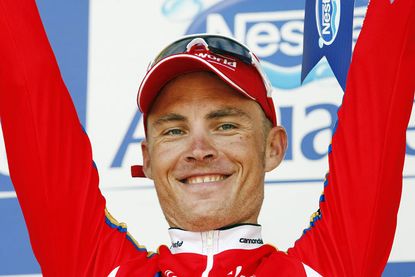 Robert Hunter gave Barloworld their second stage win in Montpellier but his powerful sprint was worth much more as he became the first South African rider to win a stage in the Tour de France and moved close to Tom Boonen in the points competition.
The experienced sprinter has been in the top 10 in four stages so far this year but he did not expect to finally get his big win in Montpellier.
?I?ve been hunting for a stage victory in the Tour de France for six years and finally it?s happened,? he said as he celebrated and hugged his team mates.
"I'm really happy. I have no words to describe what I'm feeling right now," Hunter said.
"I've done the Tour de France six times, and I'm the first South African ever to ride in it and win a stage. I hope it will boost the sport in South Africa to get more young riders up to the professional level in Europe. So far I?ve had a successful race and except for the first day I?ve been up there in every sprint. On a day like today, when there was no certainty of the stage finishing in a sprint but I managed to get what I?ve always been after.?
Hunter made sure he was near the front of the bunch when the side wind inspired Astana to attack just after the feed zone and then he avoided the crashes in the twisting final kilometers into Montpellier and came up with a perfectly-timed sprint.
?There was a little bit of luck involved but I survived both the attacks from the Astana team near the halfway mark and escaped the crash in the finale,? he said.
?I had heard a whisper early on that something was going to happen today. Before the feed zone a friend of mine told me that one team was planning to drive it home and split the bunch. I thought it would be Liquigas and my director warned us all to be in the front. When Astana went it was fast and it definitely animated the stage. It just proves that there?s no such thing as a dull day on the Tour de France.?
Thanks to scoring 35 points for his stage victory and with rival Erik Zabel (Milram) finishing out of the points, Hunter moved to second overall in the green jersey points competition. He is just 11 points behind leader Tom Boonen and has a real chance of taking the special jersey if Boonen falters in the Pyrenees.
?To finish the day with a win and to move to second place in the points classification behind Tom Boonen is something I wouldn?t have predicted at the start of the day. I was honestly just trying to minimize my losses in the race for the green jersey? now I?m only 11 points shy of Tom. That?s fantastic,? Hunter said.
Friday?s 178.5km 12th stage from Montpellier to Castres includes a second category climb 40km from the finish but if Boonen struggles and Hunter finishes in the top 14 on the stage, he could pull on the green jersey, making his own and Barloworld?s Tour de France even more special.
Thank you for reading 20 articles this month* Join now for unlimited access
Enjoy your first month for just £1 / $1 / €1
*Read 5 free articles per month without a subscription
Join now for unlimited access
Try first month for just £1 / $1 / €1