Trek and Cancellara taking 'careful' approach to disc brakes in 2016
Fabian Cancellara is testing a disc brake bike in his winter training, but his Trek technical director believes he will use a traditional system in his Classics season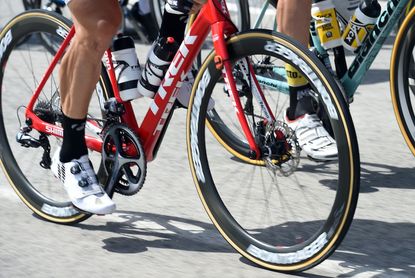 (Image credit: Watson)
Despite a green light from the UCI, Trek Factory Racing and Classics star Fabian Cancellara will take a cautious approach to disc brakes in the 2016 season.
Trek is one of a handful of teams that tested disc brakes in the two-month period provided this 2015 season when select riders used them in the Vuelta a España.
"We have to be careful about rushing into it," the team's technical director, Matt Shriver told Cycling Weekly. "We have to be careful, but this is the future."
Cancellara and Boy Van Poppel are training on Trek frames with disc brakes as they pass the cold winter months. They and some of the team's other 23 cyclists will use disc-equipped bikes in select races in 2016 instead of taking an all-in approach.
>>> Everything you need to know about disc brakes
Unless it is a particularly hellish classics season weather-wise, Shriver sees Cancellara using calliper brakes to slow his bike.
"I would not rule it out [for Fabian in the Classics, like Paris-Roubaix], but we'll see. I can't divulge too much of our plans. I don't think it'll be our team, but I would not rule out a leader using them in other teams.
"The advantage of discs comes when the weather is wet. If Roubaix is wet, it'll be good to have them. Also, you can use them in normal conditions to brake later ahead of the corners," Shriver added.
"It's unlikely, though, for Fabian because there is still a lot of testing and [Roubaix is] such a chaotic race, so you are adding more issues to an already busy race that pushes everyone's resources. It'd be better if everyone is on them in that race."
>>> What disc brake bikes will the pros be riding in 2016?
The hurdles to overcome include the unit's weight, aerodynamics and safety. Sky's Bernhard Eisel explained that he is concerned about slow wheel changes in the case of a puncture and risks of cuts or burns if there is a crash.
"It's not going to be an all-in approach. We are still going to be testing in 2016, and that's how it has to be," Shriver said.
"In 2016, teams will be trying them out, more teams than this year, and riders will probably be asking to use them. In 2017, I think we'll see entire teams fully on them. For sure it's possible. It'll help if a rider does well on them in a big race next year, that will spur it on."
Thank you for reading 20 articles this month* Join now for unlimited access
Enjoy your first month for just £1 / $1 / €1
*Read 5 free articles per month without a subscription
Join now for unlimited access
Try first month for just £1 / $1 / €1