Tweed Run returns to streets of London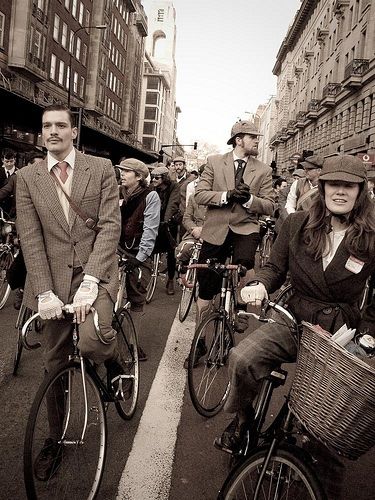 The Tweed Run returns. After the popularity of last year's unique London social ride, the organisers of the event will be running it again on April 10, 2010.
In keeping with the fun and relaxed spirit of the event, riders are expected to don authentic 1920s and 1930s cycling attire - plus fours, Harris tweed jackets, merino wool jerseys and the obligatory flat cap.
"The goal of the day is to have a bit of fun riding through London and show it's possible to cycle whilst looking stylish," organiser Jacqui Shannon said.
"Dapper gents and elegant ladies will be dressed with panache as prizes will be up for grabs including awards for most dapper chap, best moustache and most gentlemanly behavior on the day."
The ride departs at midday, and takes a 14-mile route through the heart of London taking in Trafalgar Square, Big Ben, Buckingham Palace and St Paul's Cathedral before a finishing party at Bishopsgate. The pace will be leisurely, and will feature a tea break in the park.
Although free to enter, places are restricted to 400 riders. You will be able to register online at www.tweedrun.com from February 27. The ride wil benefit the Bikes4Africa charity that provides refurbished cycles to schools in Africa.
Thank you for reading 20 articles this month* Join now for unlimited access
Enjoy your first month for just £1 / $1 / €1
*Read 5 free articles per month without a subscription
Join now for unlimited access
Try first month for just £1 / $1 / €1