UCI to make Astana announcement next week
The future of Astana's licence still hangs in the balance with the ISSUL findings to be made public next week and the UCI awaiting details from the Padua investigation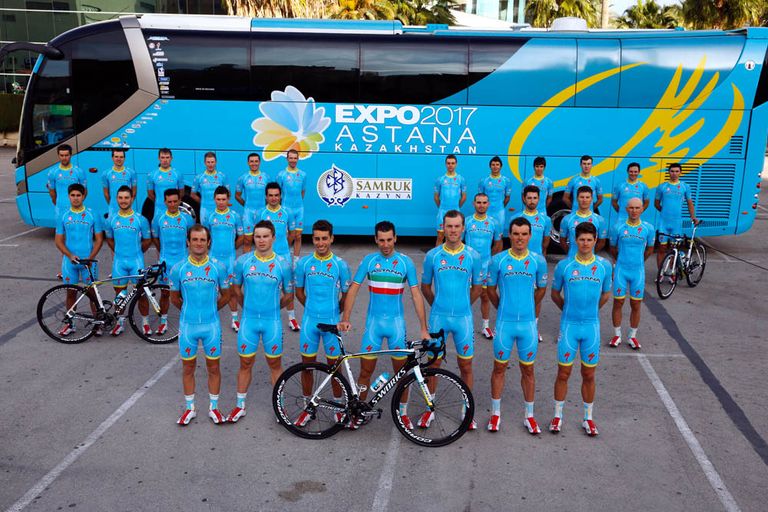 (Image credit: Watson)
The UCI will next week release details of the University of Lausanne's report in to Astana and from that update its position on the Kazakh team's license.
Astana received it's WorldTour licence last December under the condition of being independently assessed by the department of sports science of the University of Lausanne (ISSUL)
"We have had the report from ISSUL." UCI President Brian Cookson confirmed on Friday. "That report has gone back to the licence commission and we are looking at that at the moment. We expect to be in a position to make an announcement about that in the next few days."
Speaking at the Tour of Oman, Tour de France winner Vincenzo Nibali has said he will wait to hear the decision before making a comment.
The audit looked in to the anti-doping procedures and the philosophy, strategy and operational details of the team's management after five of its riders returned positive doping tests in 2015. Three of these were from their associated continental team. The more serious cases were the positive EPO tests returned by the Iglinskiy brothers, Maxim and Valentin
Cookson wouldn't comment on how compliant Astana were with the investigation, stating this information would be made public at the same time. He came under criticism last year for not taking a strong enough stance when Astana were issued a licence - from Lance Armstrong of all people - but reiterated the fact that they had followed the rules. "I don't get too worried about what Lance Armstrong might or might not say about me. He's entitled to his opinion. We will not enforce the rules by breaking the rules." Cookson said.
He reiterated the fact that Astana remain on probabtion and the status of their WorldTour licence can be reviewed at any point
>>>A history of Astana scandals
Astana boss Alexandre Vinokourov has suggested his state funded team has become a scapegoat for cycling. The team however has been involved in doping and race fixing incidents since day one. Vinokourov himself was banned for blood doping having been kicked out of the 2007 Tour de France. Soon after he announced his retirement in an attempt to have his ban reduced but came out of retirement when his ban ended.
He remained unapologetic for his doping, referring only to 'mistakes' and vague admissions of wrongdoing while quickly returning to the level of performances he enjoyed before his ban. He finally retired after winning the 2012 Olympic road race in London.
Vinokourov's position as team boss of the Tour de France winning squad is one of the driving forces behind calls for a 'fit and proper persons' test for those running and working within professional cycling teams. This is expected to be addressed in the findings of the Cycling Independent Reform Commission (CIRC).
No matter the decision taken next week, this may not be the end of it. Cookson confirmed that the UCI is still waiting to receive details from the Italian Padua investigation. "We have asked for the report, but we haven't had that yet. We've read what's in the media but we can't act on media reports. These are all issues that the Licence Commission can take in to account if they are asked to look at this situation again." Cookson said.
Thank you for reading 5 articles this month* Join now for unlimited access
Enjoy your first month for just £1 / $1 / €1
*Read 5 free articles per month without a subscription
Join now for unlimited access
Try first month for just £1 / $1 / €1
Editor of Cycling Weekly magazine, Simon has been working at the title since 2001. He fell in love with cycling when channel surfing in 1989 and happening across the greatest ever edition of the Tour de France. He's been a Greg LeMond fan ever since. He started racing in 1995 when moving to university in North Wales gave him more time to train and some amazing roads to train on. He raced domestically for several years, riding everything from Surrey leagues to time trials, track and even a few Premier Calendars. In 2000 he spent one season racing in Belgium with the Kingsnorth International Wheelers.
Since working for Cycling Weekly he has written product reviews, fitness features, pro interviews, race coverage and news. He has covered the Tour de France more times than he can remember along with two Olympic Games and many other international and UK domestic races. He can still be seen at his club's evening races through the summer but he still hasn't completed the CW5000 challenge!
SIMON IS CURRENTLY RIDING
Road bike: Pinarello K8S with Shimano Dura Ace
TT bike: Specialized Venge road bike with FFWD wheels and Easton Attack TT bars
Gravel bike: N/A
Training bike: Rourke custom hand made with Reynolds 853 steel