Astana withdraws from Tour of Beijing after Maxim Iglinskiy positive
Under Movement for Credible Cycling rules, Astana have withdrawn from competition after positive tests for Valentin and Maxim Iglinskiy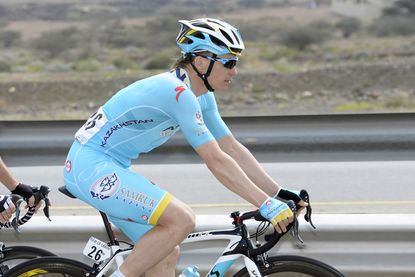 (Image credit: Graham Watson)
Astana has withdrawn from the 2014 Tour of Beijing after the Kazakh team's Maxim Iglinskiy failed an anti-doping test taken in August for banned blood booster EPO.
Iglinskiy has elected not to request that his B sample be analysed - effectively admitting his guilt - so the team has voluntarily withdrawn itself from the final WorldTour event of the season.
Maxim Iglinskiy's positive for EPO is in addition to a test failure for the same substance by his brother and former Astana team-mate, Valentin.
Valentin admitted using the drug and was sacked from the team.
Under the rules of the Movement for Credible Cycling (MPCC), of which Astana is a member, a team must withdraw itself from competition for eight days from the start of the next WorldTour race if it has two positive doping cases in a 12-month period.
In a brief statement issued on Monday, the squad said: "Astana Pro Team has moved to act upon the decision by rider Maxim Iglinskiy not to request a counter-analysis of his positive control from 1 August 2014."
"In doing so the team conforms to rules set by the MPCC, which Astana Pro Team joined in 2013, and has therefore decided to withdraw from the final WorldTour event – the Tour of Beijing."
The Tour of Beijing runs from October 10 to 14.
Second EPO positive for Astana as Maxim Iglinskiy joins brother Valentin in failing a test for blood booster
Kazakh rider Valentin Iglinskiy failed test for EPO at Eneco Tour and admits to using the banned blood booster
Thank you for reading 5 articles this month* Join now for unlimited access
Enjoy your first month for just £1 / $1 / €1
*Read 5 free articles per month without a subscription
Join now for unlimited access
Try first month for just £1 / $1 / €1