Vinokourov: Too easy for people to just point the finger at Astana
Astana team manager questions the absence of six WorldTour teams from the Movement for Credible Cycling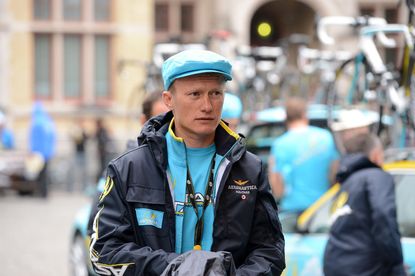 Astana team manager Alexander Vinokourov leapt to the defence of his team's anti-doping credibility this week and challenged the choice of six WorldTour teams, including Team Sky and BMC, to remain unaffiliated to the Movement for Credible Cycling (MPCC).
After a series of doping scandals in late 2014 around the Astana team and their Pro Continental counterpart, including both the Iglinskiy brothers testing positive for EPO, the UCI referred the team to its Licence Commission, which eventually awarded the team its WorldTour licence with a number of caveats.
As part of the MPCC, Astana excluded themselves from the 2014 Tour of Beijing in accordance with the voluntary organisation's code, following Maxim Iglinskiy's positive test. And it's some team's lack of involvement with the movement that Vinokourov says is damaging the perception of cycling.
"It's too easy that many people just point at us," Vinokourov said to De Telegraaf. "I have discussed this with Roger Legeay, the president of the MPCC. We are affiliated to the MPCC and we really do everything to prevent our riders from doping.
"Teams like BMC and Team Sky talk about doping but they refuse to join the MPCC. How harmful is that for the image of cycling?
"Credibility is something everyone needs to work with. We have all our doors open. Anyone who wants to know something is welcome. We are credible."
Four other teams - Etixx - Quick-Step, Movistar, Trek Factory Racing and Tinkoff-Saxo - also maintain their independence from the organisation set-up in 2007.
MPCC president Legeacy previously described it as "almost incomprehensible" that all WorldTour teams have yet to sign-up to the group, that runs firmer rulings on anti-doping in addition to the UCI's current code.
While the MPCC calls on teams to suspend themselves from competition after two positive tests, Vinokourov insists that the Astana riders caught doping were doing if of their own volition, and that there was no systematic doping programme by the team.
"I have always maintained that this is a different matter than, for example, Rabobank or T-Mobile, where there was talk of organized doping from the team," said Vinkourov, who is a former T-Mobile rider himself .
"In our team, there was only the family scandal of the brothers Maxim and Valentin Iglinskiy, who acted on their own."
The Kazakh manager also remained defiant that Astana was doing enough to safeguard against riders doping, implying that there wasn't much more he thought the team could do to prevent riders taking performance enhancing drugs if they decided to.
"Every directeur sportif accompanies five or six riders and has contact with them every three days," he said.
"The same applies to our doctors. We require that all of our riders send their training data to us daily. If someone puts out different wattages, there's an immediate alarm bell. What more can we do? Put a guard next to each rider?"
Thank you for reading 20 articles this month* Join now for unlimited access
Enjoy your first month for just £1 / $1 / €1
*Read 5 free articles per month without a subscription
Join now for unlimited access
Try first month for just £1 / $1 / €1