UCI to test mixed-gender cycling events this week
UCI president Brian Cookson says that the cycling events including male and female riders will be trialled this week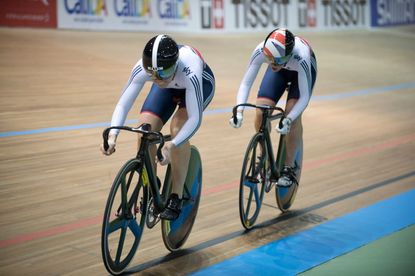 (Image credit: Casey B Gibson)
The Union Cycliste Internationale (UCI) will test the running of mixed-gender cycling events this week, according to the organisation's president Brian Cookson.
Speaking at the Sports Industry Group Breakfast event on Tuesday morning in London, Cookson said that the UCI would be testing the events to "see what works".
"It will have to be very carefully managed. Coaches and sports scientists tell me that men are between 10 to 15 per cent faster than women in any given cycling event so we would have to find ways to moderate that difference if they are going to be competing at the same time," Cookson told the audience. "If it's a disaster and doesn't work, we can report back to the IOC [International Olympic Committee] and say we tried it but it's impractical. Let's see."
The development of women's cycling was one of Cookson's manifesto aims before he was elected president, and cycling events that see men and women competing at the same time seems like an obvious way to completely break down the gender divide.
The move would be part of a revamp of Olympic cycling disciplines as the IOC moves towards a 50 per cent participation rate for women. The 2020 Games in Tokyo will have a cap on number of athletes taking part, and the IOC is in the process of reviewing the sports included - and that could mean changes to cycling events. No changes will be made for the 2016 Rio Games, however.
Cookson said last December that mixed gender events could include road time trial, and the Madison and team sprint on the track.
"Men and women competing together, there is no history of that, maybe a team relay," he said. "We'd need to do some test events and to consult with the national federations, what would work and not work."
Cookson mooted the possibility of a relay time trial, with male and female competitors taking turns. It is, however, unlikely that we will see mixed gender road racing in the near future.
With the IOC lifting its 28-sport cap, UCI president Brian Cookson is keen to explore ways to safeguard track cycling's
Olympic cycling disciplines were changed for the 2012 Games in London to bring parity to the number of medals available for men and women. As part of those changes, the omnium track event was introduced and the Madison, points race and individual pursuit were scrapped.
Both men and women will compete in five events on the track in the 2016 Games: omnium, team pursuit, team sprint, keirin and sprint. The women's team pursuit has also been altered to match the men's, with four riders taking on 4km.
Along with track disciplines, Olympic cycling includes BMX, mountain bike cross-country, and road race and road time trials.
Thank you for reading 20 articles this month* Join now for unlimited access
Enjoy your first month for just £1 / $1 / €1
*Read 5 free articles per month without a subscription
Join now for unlimited access
Try first month for just £1 / $1 / €1