UNIBET.COM TO QUIT CYCLING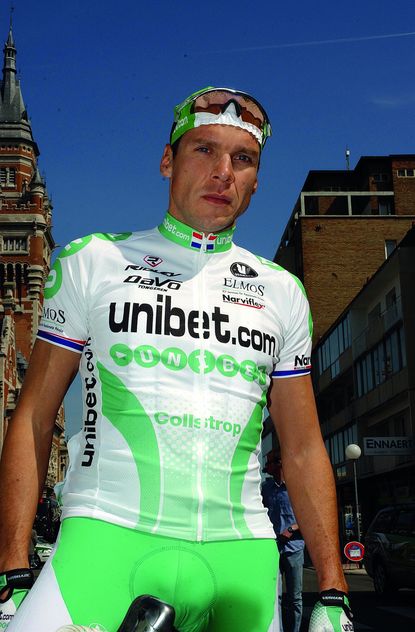 (Image credit: AJ)
Less than a week after Discovery Channel announced their team was folding, Unibet.com have announced they will also cease operations at the end of this season.
Barred from starting any of the major Tours ? partly as a result of the ongoing argument over the ProTour between the UCI and the major stage race organisers ? Unibet.com?s future was always uncertain and not getting a place in the Vuelta was th last straw for the half-Swiss, half-Belgian outfit decided to quit.
The current team line-up includes veteran British sprinter Jeremy Hunt ? this year the winner of the first race of the season in Europe, the GP D?Ouverture and it is unclear if he will be able to find a place in another team for 2008.
Ever since Hunt's win in early February, Unibet.com were told that for legal reasons related to betting laws - which have yet to be fully settled one way of the other ? they could not take part in French races wearing their team kit advertising their sponsor. The team responded by wearing alternative race kit, firstly with huge question marks and then featuring their bike company?s logo but this did not resolve their problems with the organisers of the Giro, Tour and Vuelta, who made it clear that Unibet.com was unwelcome whatever kit they were wearing because they were involved in the ProTour power struggle.
Unibet.com?s participation was, the organisers argued, imposed on them by the UCI and the ProTour ? to which their races, they said, no longer belonged. Whilst Unibet.com and the UCI disputed ? and still dispute - this line of argument, the sponsor decided that after 10 months of backing a squad which was not allowed to take part in all the big events, they had had enough and were quitting. As a result the riders and team staff are now desperately looking for a places in other teams for 2008.
Thank you for reading 20 articles this month* Join now for unlimited access
Enjoy your first month for just £1 / $1 / €1
*Read 5 free articles per month without a subscription
Join now for unlimited access
Try first month for just £1 / $1 / €1