Vincenzo Nibali: I am not leaving Astana
Tour de France winner Vincenzo Nibali says he thinks Astana will be granted a WorldTour licence despite recent doping cases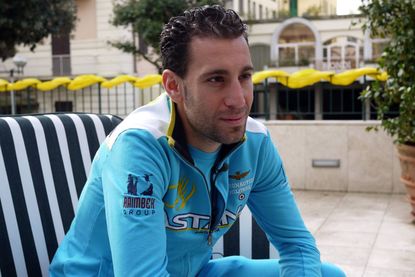 (Image credit: Gregor Brown)
Tour de France champion Vincenzo Nibali will stay with team Astana for 2015 despite five recent doping cases that have cast a shadow over the Kazakhstan team.
"I don't think I'd leave," Nibali said in an interview with Cycling Weekly. "I have my technical staff here, the people I wanted in the team. There's a good group, all around me and united."
Since the 30-year-old Sicilian won the Tour de France in July, Astana has suffered five doping cases. Brothers Maxim and Valentin Iglinskiy both tested positive for EPO and three riders – Ilya Davidenok, Victor Okishev, Artur Fedosseyev – from the third-division Continental team with the same Astana name tested positive for steroids.
Cycling's governing body, the UCI, called the doping scandal "an extremely serious situation" that reflects poorly on the Kazakh team and its management. It asked its licence commission to review Astana's ethical record before it issues a renewal of the first division, WorldTour licence for the 2015 season.
Nibali explained yesterday that the cases in the Continental team, what he called Astana Two, are different and separate from his first division team. He added the Iglinskiy cases should be treated as one since they are part of the same family.
"The WorldTour licence for me is going to be OK," Nibali added. "In this moment, I don't think there will be a problem."
The UCI said that next week it will name the teams with licences to race in the 2015 WorldTour. It withheld Katusha's licence for 2013, but the team appealed and won its case to race in the WorldTour.
"As long as Vincenzo has a team with a contract in place and a licence, he can't leave," Nibali's agent, Alex Carera told Cycling Weekly.
"There's no clause that allows him to get out. If the team doesn't have a licence though, all the riders would be free to leave."
Nibali joined Astana in 2013. His contract runs through the 2016 season.
More on Astana
Credit: Andy Jones
2014 Tour de France winner expects his Astana team to be granted a WorldTour licence in 2015, despite four riders
Thank you for reading 5 articles this month* Join now for unlimited access
Enjoy your first month for just £1 / $1 / €1
*Read 5 free articles per month without a subscription
Join now for unlimited access
Try first month for just £1 / $1 / €1