VOTE FOR SLIPSTREAM'S NEW KIT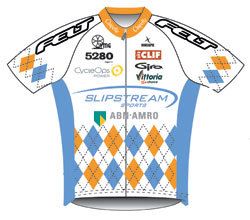 Three weeks ago we ran a story on Team Slipstream-Chipotle's team strip design competition.
The rapidly-expanding US outfit was looking for, er, a new outfit for all of its riders, which from next year includes multi-British National Champion David Millar and Wales' only Paris-Roubaix winning resident, Magnus Backstedt. They invited fans to design a new team strip using templates available from Slipstream's website.
One of the caveats was that the new design should incorporate the team's love-it-or-hate-it Argyle motif.
Well, now the entries have been shortlisted to just five designs by the judging panel, and now they are inviting fans to vote for their favourite design.
You can view the final five designs and vote for your favourite by clicking here. You have until tomorrow (Friday, September 21) to vote.
RELATED LINKS
Design Slipstream's kit
Backstedt signs for Slipstream
Slipstream announce 2008 roster
EXTERNAL LINKS
Team Slipstream-Chipotle: www.slipstreamsports.com.