VOTE FOR SUSTRANS TO GET £50 MILLION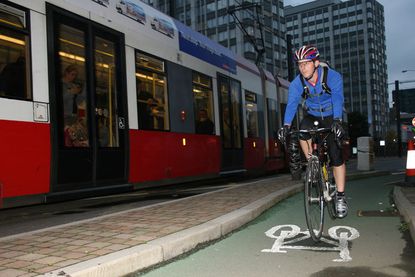 Voting started at 9am this morning for The People's £50 Million Lottery Giveaway - where members of the public can vote for one of four projects, including Sustrans' Connect2.
Connect2 is a national scheme that aims to create new walking and cycling routes in 79 different communities. Should the Sustrans project be successful, money will be used to build bridges and crossing over railway lines, busy roads and waterways in order to link up a network of cycling and walking routes.
Sustrans' Chief Executive John Grimshaw said, ?Now's your chance to make sure some of that £50 million Lottery money benefits six million people from Perth to Newton Abbott and Strabane to Norwich. Log on to www.thepeoples50million.org.uk and vote for Sustrans' Connect2, and get your friends, family and colleagues to do the same. A vote for Connect2 is a vote for a healthier more sustainable future, for us - and our children: just a minute of your time could make all the difference."
Sustrans estimate that 6 million people live within a mile of a Connect2 project, so it is something that will enable a vast amount of people to cycle or walk to work, school or for leisure more safely and efficiently.
The other three projects involved in the voting are: Eden Project (the Edge), Sherwood (The Living Legend) and Black Country Urban Park. Sustrans' scheme is the only one with nationwide implications.
You can vote for the Sustrans project at the People's £50 Million Lottery Giveaway website, where there are further details of the scheme. You can also find out more about the project at Sustrans' website.
Connect2 will be featured on an ITV1 show on December 4.
Thank you for reading 20 articles this month* Join now for unlimited access
Enjoy your first month for just £1 / $1 / €1
*Read 5 free articles per month without a subscription
Join now for unlimited access
Try first month for just £1 / $1 / €1