What happens when pro cyclists try to sing? (video)
Bradley Wiggins jamming, Fausto Coppi crooning, plus Taylor Phinney, Andre Greipel, Marco Pantani and more. When the worlds of professional cycling and pop collide, it can only mean one thing.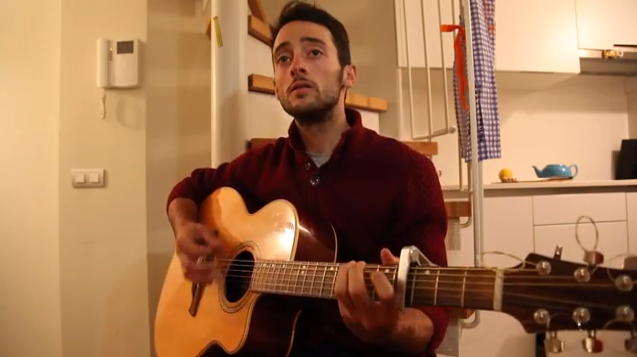 Professional cyclists have been known to indulge in off the bike passions from time to time. But when that passion is singing, the results aren't always pretty.
Paolo Bettini & Friends
https://www.youtube.com/watch?v=cO_2EePRpnQ
The promotional video for the 2008 road world championships features a number of take home messages such as 'race clean,' 'come to Varese,' and 'don't recruit cyclists to sing your promotional video.'
At times poor old Paolo doesn't seem to know where he is. Or what he's supposed to be doing. For others though, this nightmare is all too real.
Now where were we? Varese Va, Varese Va.. Va
Judges score: 5/10
Style: 6/10
Catchy-ness: 10/10
Nathan Haas (Cannondale-Garmin)
https://www.youtube.com/watch?v=wTOQqReWt3g
Haas goes for the stripped back acoustic sound as he covers his favourite Death Cab for Cutie song. He's also gone for stripped back surroundings of a white kitchen, blue teapot and what appears to be a lemon.
Sad song and slight deadpan look aside, it's three yeses from us.
Watch more of Nathan Haas' videos here.
Judges score: 8/10
Style: 4/10
Catchy-ness: 4/10
Bradley Wiggins
https://www.youtube.com/watch?v=hLjonzSr-JI
Sir Bradley Wiggins hops up on stage after winning the 2012 BBC Sports Personality of the Year award to give a performance of The Jam's 'That's Entertainment.'
He did it again, this time with the real Jam frontman Paul Weller at a charity gig at the Hammersmith Apollo.
Wiggins also likes Wonderwall; a track he picked in his top ten when interviewed by Cycle Sport magazine in 2009.
>>>Bradley Wiggins: guitar hero
Judges score: 7/10
Style: 8/10
Catchy-ness: 3/10
Michele Scarponi
https://www.youtube.com/watch?v=hz1YDkqa71s
Astana's Michele Scarponi bursts into this little ditty at the end of the Tour of Oman stage one. It's a few lines from Jose Feliciano's 'Che Sera' that was big in 1971...even 36-year-old Scarponi wasn't alive when it was released.
Judges score: 5/10
Style: 7/10
Catchy-ness: 7/10
Taylor Phinney's 'Let's Get It On'

https://www.youtube.com/watch?v=WdFX5OKbN6c
Cycling Weekly doesn't do best man's speeches. But if we did, we'd probably get Taylor Phinney to do them for us. Watch the American showman serenade guests at his teammate Tejay van Garderen's wedding with an extra special version of Marvin Gaye's 'Let's Get It On.'
Judges score: 9/10
Style: 9/10
Catchy-ness: 7/10
Andre Greipel living the dream

https://www.youtube.com/watch?v=iG0YpduT_K8
Autotune has never had to work harder. To be honest, we were expecting a bigger sound from the big German. Perhaps he's saving his vocal cords for a sonic sprint finish?
Erm. No. No he's not.
Judges score: 4/10
Style: 4/10
Catchy-ness: 2/10
Fausto Coppi and Gino Bartali
https://www.youtube.com/watch?v=oEPEsOVgNGM
Sister magazine Cycle Sport recently chose Coppi as the most stylish cyclist of all time but left one caveat: off the bike he looked, as his great rival Gino Bartali put it, "like a skinned cat."
Despite this, some enthusiastic Italian TV wizard must have thought the best way to portray this famous sporting and national rivalry was to force them on stage and make them sing a duet. If you listen carefully you can just about hear him tearing his hair out in the wings.
Bartali at least tries to give the whole thing some credence, even if he falls some way short of Frank Sinatra. Coppi meanwhile, hands folded with a 'couldn't care less' posture, sings into the mic as if his voice has been pre recorded and the tape played back at half speed.
He still looks pretty good doing it, though.
Judges score: 3/10
Style: 6/10
Catchy-ness: 0/10
The Marco Pantani rap
https://www.youtube.com/watch?v=KkpAxlYBRow
In what is the Italian equivalent of Gazza singing 'Fog on the Tyne,' Marco Pantani is forced to don his headphones and rap the opening titles for the 1996 Giro d'Italia coverage.
If this wasn't motivation for him to get better from a broken leg and start riding again, we don't know what was.
Judges score: 2/10
Style: 1/10
Catchy-ness: 7/10
Erwann Menthéour's soft rock ballad
https://www.youtube.com/watch?v=EKYpU4gZvIg
Confessed doper-turned-novellist-turned-soft rock sensation, Erwann Menthéour sets the world to rights with his emphatic power anthem 'Dieu Est Mort' or 'God is Dead.'
That's what the record company thought, anyway.
Judges score: 3/10
Style: 3/10
Catchy-ness: 2/10