The 25 most stylish cyclists of all time
You've either got it or you haven't. Chris Sidwells reveals his 25 most stylish riders of all time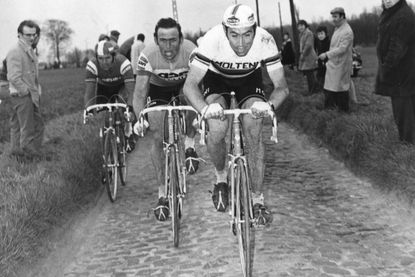 Get The Leadout Newsletter
The latest race content, interviews, features, reviews and expert buying guides, direct to your inbox!
Thank you for signing up to The Pick. You will receive a verification email shortly.
There was a problem. Please refresh the page and try again.
Photos by Graham Watson, Yuzuru Sunada, Richard Baybutt, Daniel Gould, Cycling Weekly archive
Style is a word used a lot in cycling. On one level it's very practical. It helps quantify form and efficiency. A good riding style is efficient because more power goes into the pedals per calorie of energy burned, but the style we are talking about here is so much more than that.
Cycling is very visual. It's quite graceful too when you think about it. A bicycle transfers the up and down motion of the rider's legs into smoothly spinning wheels, and the most stylish riders do that with the greatest grace.
Then there is the way they look. The way they sit on a bike, their physical proportions, the elegance with which their limbs work, even a sartorial flair for just the right length of sock, the fit of a jersey, the precise position of helmet or cap, arm-warmer or track mitt.
But of course to the observer — just as we are — this is all subjective. So you might not agree with the 25 riders we've chosen, and certainly not with the order we've put them in.
Here's our countdown, starting with number 25.
25. Eric Maechler
Maechler won Milan-San Remo in 1987. He also spent six days in the Tour de France yellow jersey later the same year. He was a useful rider who won stages in important races, and was always there to back up his more talented team-mates. But above all, Maechler looked good on a bike.
He was tall, which helps. Short stocky sprinters will never be elegant. They have too many sharp angles; long lines are always smoother. Maechler tucked his elbows in and sat back in the saddle, lightly resting his hands on the handlebars.
He would be higher in this list but for his bad haircuts. Maechler started out not too bad, but then he went bottle blond and he ended his career with a long slicked-back 'do' that made him look like Wolf from the Gladiators TV show.
24. Gert-Jan Theunisse
Theunisse's long, lank hair, his piercing eyes and long, skinny limbs gave the flying Dutchman an otherworldly appearance but he could really make a bike move. Actually, thinking about it, we reckon that Theunisse spanned the border between elegance and awful, and eventually he crossed it.
His elegance peaked with PDM, on a stage during the 1989 Tour de France. Clad in the polka-dot jersey, he took flight on the Galibier and rode alone over the Croix de Fer and up to Alpe d'Huez to win.
>>> Alpe d'Huez: Classic climbs of the Tour de France
Theunisse had wings that day, his lean frame seemed inexhaustible. But the wings melted and so did his style when he joined TVM.
Theunisse started wearing hideous headbands, probably to cover the Euro-mullet haircut he adopted. TVM even made the style mistake of riding moulded magnesium girder-like Kirk Precision frames for a while. Clad in yellow, blue and red, and on one of those bikes, Theunisse looked like Lego on wheels. Nobody can carry that look off.
23. Rolf Sorensen
Now Rolf Sorenson could wear a headband. This latter day viking once graced the cover of Euroman, a sort of Danish GQ. He was elegant on the outside, steel on the inside, which is a great combination for a bike rider. Sorensen won some of the biggest one-day race on the calendar: Paris-Tours in 1990, Liège-Bastogne-Liège in 1993 and the Tour of Flanders in 1997, and he looked just right on a bike.
Nothing particular you could put your finger on, just the whole package. Sorensen's riding was smooth, capable, concise and deadly. He could ride the track too, which always adds a little 'souplesse' to the 'coup de pédale', if you'll excuse my French.
22. Dietrich Thurau
Style is no guarantee of success, although it is always a sign of talent. Dietrich Thurau is the first unrealised talent in this list. Unrealised? That might sound harsh, seeing as Thurau won Liège-Bastogne-Liège in 1979, spent 15 days in the yellow jersey and was best young rider during his Tour de France debut in 1977. But having that much success so early is the clue to why we say unrealised.
Frankfurt-born Thurau was so good so young that he was huge draw for six-day races, which were very big in Germany in the late 1970s and through the 1980s. And that's where Thurau traded his talent. He liked money, and six-day races were where he got the most money per watt of effort. But he never lost the style.
Dietrich Thurau looked like he was born on a bike. He looked like an athlete and his pedalling was perfection. He was world individual and team pursuit champion in 1974, and pursuiters can pedal. Nine of the 25 in this list were either national champions and/or have done the pursuit at world or Olympic level. Three of them were pursuit world champions.
21. Rochelle Gilmore
Another great road racer who started on the track, Gilmore was second in the 1999 junior points race World Championships. She also took two silver medals in the Worlds scratch race as a senior.
Actually, finishing second was the template of Gilmore's career, but she looked good doing it. And even in retirement, Rochelle Gilmore still is elegance on two wheels.
20. Giovanni Battaglin
The first of six Italians in this list, Battaglin was a climber who did the Vuelta/Giro double in 1981 - a time when the Vuelta was held in April and the Giro started just three days after the conclusion of the Spanish Grand Tour.
He also made a nuisance of himself, regularly attacking Eddy Merckx whenever the road went upwards, particularly in the Giro. The attacks didn't work but Battaglin is here for how he looked, rather than his effectiveness.
>>> Icons of cycling: The maglia rosa
He sat well on a bike — same as all the others — but it was the way Battaglin accessorised that gave him true style. He would often race with a gold Rolex on his wrist. He wore kid leather track mitts. And when he won the King of the Mountains in the 1979 Tour de France, Battaglin did so on a red Colnago with gold-plated forks and gold anodised toe clips.
Another Italian, Mario Cipollini, had a penchant for gold, but he went way over the top with it, which is why Cipollini isn't in this top 25 and Battaglin is. Giovanni Battaglin showed style with restraint. Plus nobody wore the azzurra better than Battaglin. That was the all-blue Italian kit the national team used in World Championships and Olympic Games, before somebody messed with it and ruined it.
19. Jan Janssen
The first Dutch winner of the Tour de France was the epitome of 1960s Euro-chic. With his swept back blond hair and gold-rimmed spectacles, Janssen looked businesslike and efficient even before he even got on his bike.
He wore tailored suits when travelling to races, not jeans and a jacket. He carried his kit in a leather suitcase, not in a kit bag. And he wore Italian leather shoes, not loafers. Super-smart, super-smooth, and a winner; that's style.
18. Michele Bartoli
Whippet built, whippet quick, Bartoli had the flattest back in road racing. Between 1996 and 2003 Bartoli used poise and speed to win five Monuments; one Tour of Flanders, and two each of Liège-Bastogne-Liège and the Tour of Lombardy.
Bartoli was fast and elegant, something bunch sprinters rarely achieve. But of course Bartoli wasn't a bunch sprinter, he won races in sprints from small groups, which he whittled down with stinging attacks. Or he'd attack them late and go it alone.
Bartoli invented the slammed stem, rode the smallest frame he could, and showed lots of seatpost. He was aero on a road bike before people really thought too much about aero road bikes. His flat back, head level with his shoulders, elbows tucked in and hands holding the drops made Bartoli super-slippery. He rode like that on the flat, and climbed all but the steepest hills in the same position.
17. Marcel Kittel
Marcel Kittel is the fast and elegant bunch sprint exception. Tall, blond, strong and immaculate, his power is as controlled as it is devastating. And it's control that gives Kittel ice-cool style. Most of the riders he competes with in sprints are on the ragged edge, and very often they cross it, but Kittel never is, at least not yet.
Sprinters are the first to lose their edge, so we'll see if Kittel is so cool when the next big sprint thing challenges him in a few years' time. But for the moment he's got the sharpest haircut in the 21st century peloton, and he can wear aviator sunglasses — a style statement that few can carry off.
16. Andrea Tafi
If the other riders in this list are Ferraris (the cars, not the doctor), Jaguars, Lamborghinis and McLarens, then Andrea Tafi is our Bugatti Veyron: megawatts of power but with style and poise to go with them.
Tafi won the Tour of Lombardy in 1996 and the Tour of Flanders in 2002, but his biggest glory was the 1999 Paris-Roubaix. Tafi was built for cobbled Classics. He suffered terribly at the end of Paris-Roubaix in 1996, when he was scripted third in a Mapei 1-2-3 behind Johan Museeuw. The script was allegedly dictated by Mapei boss Giorgio Squinzi, but Tafi wrote his own in 1999 when he powered over the cobbles to win in Roubaix alone.
Andrea Tafi was Italian national champion in April 1999, so he owned a Tricolore jersey. His style was pure bulldozer — the force coming from the massive engine of his hip and thigh muscles. He had a knack for getting low across his bike, despite his size.
And he could wear a cap — not everybody can. Tafi could even carry off the caps he wore in summer with the middle cut out so they were just a headband with a peak. Anybody else would look like a Western Union telegraph clerk, but Tafi just looked utterly cool.
Watch: Top 10 riders of 2017
15. Laurent Fignon
Laurent Fignon would make this list just for having enough style to carry off a ponytail, but there's more. Grand Tours aren't won today the way Fignon won them. He did it with bare-knuckle attacks. So did his rivals Bernard Hinault and Greg LeMond, but while they always looked like they were in a fight, Fignon's elegance belied his aggression and determination.
Fignon had all the guts and grunt, but he had style with it. He would attack, attack and attack, and still look good. He looked good when he was losing, too.
>>> 1989 – The greatest Tour de France ever
It was a joy to see LeMond come back from injury, and all the problems that went with it, to win the 1989 Tour de France, but the dignity Fignon showed in that final time trial as he tried and tried but slowly lost his lead, it tugged at your heartstrings.
Win, lose, walk, talk or live, Laurent Fignon did them all with style, and his style was unique. He was, as the French would say, un artiste original.
14. Malcolm Elliott
We did a photo shoot with Elliott a few years ago for Cycling Weekly, and discovered that he has strong views on how cyclists should wear their kit. For example, Elliott thinks that modern socks are far too long, but turning down the tops doesn't meet his aesthetic ideal, so he folds them inside his shoes. And that's not all he does before he's ready for the camera. An Elliott kit change takes time, thought... and a mirror.
With that attention to detail it's no wonder Elliott looked good when he raced, but there was more. He had balance and poise on a bike, and he still has. His weight is distributed perfectly; his body fits a bike. Those facts helped him become one of the best criterium racers of his generation.
Even on the tightest city centre circuits, which don't suit tall riders like Elliott, he took the best lines through corners, tighter than anyone else when he needed. Tall guys can't always do that. Elliott's style isn't just show, it's functional, and he hasn't lost it.
Back to the photo shoot. We were in Cumbria and had stopped at the top of the super-steep Honister Pass. Kevin Dawson, a former pro and multiple national time trial champion was with us. Dawson set off down the pass, the idea being that they would climb back up together, but Elliott hung around at the top chatting for a bit.
Then, when Dawson was no more than a fast moving dot thundering towards the valley, Elliott started to descend. We have never seen anyone go downhill so quick. He caught Dawson near the bottom and flew past him. We don't know how he did it, and can only assume it's the way he sits on and controls his bike. Maybe it's no coincidence that the most stylish riders are also among the best.
13. Lizzie Deignan
The track is the way to road success. Sky boss David Brailsford said as much years ago. Some people laughed, We don't know why, because it's true and always has been. The great French directeur sportif Raymond Louviot, who ran the St Raphael and Ford France teams in the Fifties and Sixties used to say, "Give me a pursuit world champion and in three years I'll give you back a champion on the road." Look at the number of riders with a good track background in this list. Lizzie Deignan is one of them.
She's a product of British Cycling's talent system, in which track racing plays a huge part. She was team pursuit world champion in 2009, and under-23 European scratch race champion in 2007 and 2008. She also won silver and bronze medals in the senior Track World Championships. All long before she was road race world champion in 2016.
>>> Former world champion Lizzie Deignan announces pregnancy
Track racing improves pedalling. Track riders develop a style of pedalling that makes use of their feet so they transfer power through a larger percentage of each pedal revolution, and due to a fixed wheel, they do so smoothly. That's a great performance boost, increasing both power output and efficiency. It looks good, too.
Lizzie Deignan has the whole package; she looks good on a bike for the same reasons as the men do in this list. She's elegant and she holds her bike just right with perfect weight distribution. She's a joy to watch.
12. Tom Boonen
Is Tom Boonen the best cobbled Classics rider ever? Maybe. But whatever history decides Boonen is an example of form powering function.
His style. His long upper body that spreads weight between the front and back of his bike. His innate ability to control his bike over the worst roads. They all combine to make it look less like Boonen rides over cobbles, more like they melt down to tarmac beneath his wheels then reform once he passes.
11. Francisco Moser
Moser is Tom Boonen with Italian flair. They were both good at the same races. Moser won Paris-Roubaix three times; that was three times in a row, just to be clear. He has the same long body, the same powerful build as Boonen, but he was more streamlined.
Moser could get his head lower than his back on a standard road bike. His arms were just right, too. In a full-speed crouch they bent 90 degrees at the elbows, forearms parallel to the ground, hands gripping the drops. If he held the hoods his body didn't change position one bit, he just closed up the angle of his elbows to compensate.
Moser could ride the track; he won five national track titles, was professional pursuit world champion in 1976, and he won 16 six-days. His track pedigree is part of his style, but Moser had more.
>>> Icons of Cycling: Francesco Moser's 1984 Hour Record bike
The British sports journalist Geoffrey Nicholson saw it the first time he saw Moser. Nicholson wrote a beautiful book about the 1976 Tour de France, and this is how he describes the young Francesco Moser in it. "Moser is a handsome downhill racer from the Dolomites who always carries with him, like a whiff of aftershave, a touch of the expensive glamour of winter sports."
So true. Moser kept that style, that flair and a certain swagger throughout his career, in which he proved to be so much more than just good at going downhill.
10. Eddy Merckx
In still pictures, Eddy Merckx would be number one. He is style personified. That Elvis haircut, those silky Seventies sideburns, his inscrutable face, his long powerful limbs and powerhouse back and chest. But Merckx in motion just takes the edge off the stills.
Merckx was once asked what made him the best, and he thought for a moment then said, "I was just very, very strong." And that's it, pure strength. It was obvious with Merckx where his speed came from. There are many on this list where it isn't, and that lends them mystery, which in turn adds to their style.
>>> Eddy Merckx: the man behind the legend
There was no mystery about why Merckx went so fast; he simply pounded the pedals with every fibre of his body. His shoulders, arms and back pushed behind his legs. He was aggressive, too. If he wanted something he would stick out his elbows, snarl and spit and crack the road up until he got it.
More than one Seventies pro has said that Merckx would shout at riders in breakaways. Nobody ever did a long enough turn or went hard enough in a break for Eddy Merckx. He was oblivious to the fact that once he'd turned up the heat it was all anybody could do to hold on. The riders higher up this list never shouted, at least not much, they just rode. There was just too much streetfighter in Eddy Merckx to make it any higher than 10th.
9 Alfons De Wolf
"Fonske? He was just too damn handsome to be a cyclist." That's what Britain's Barry Hoban says about Belgium's first 'next Eddy Merckx'. Of course there's never been another Eddy Merckx, how could there be? How could anybody live up to that billing?
De Wolf tried. He had all the physical attributes to do it, and he oozed style. He turned pro in 1979 at 22 and won five stages and the points jersey in the Vuelta. He won the Tour of Lombardy the following year, then Milan-San Remo in 1981.
Belgium went mad. De Wolf was the answer to a nation's prayers. Tall, good-looking, fashionable, friendly, De Wolf had it all, and everybody wanted a piece of De Wolf. The same thing happened to Tom Boonen when he was young, but De Wolf was even younger when it happened to him and he couldn't run away to Monaco and hide from it like Boonen did.
By 1982 De Wolf was coming second where before he would have won, and the pressure mounted. After 1984 even second places were hard to get. De Wolf's career was on the slide. But boy he looked good on a bike, especially in 1983 when he rode for Bianchi.
Looking back he says: "The public expected too much." These days he's a funeral director in a town near Brussels, and he's very happy.
8 Luis Ocaña
Not too tall, lightly built with slim shoulders and long limbs, this dark-eyed Spaniard was born to be a cyclist. He could climb, he could time trial, but he was also frail and very highly strung.
Ocaña won the 1973 Tour de France at a canter, but Eddy Merckx was missing from the starting list. Two years earlier, Ocaña had destroyed Merckx on one day in the mountains and taken the yellow jersey by a wide margin. Starting the next day Merckx fought Ocaña for every corner and every inch of the road. He ran his rival ragged until he made a mistake. Ocaña crashed on the descent of the Col de Mente in the Pyrenees. He tried to get up, twice, but each time he was knocked down by other riders. Ocaña couldn't continue.
>>> How they used to train: Eddy Merckx's pre-1969 Tour de France week
Merckx would have. He would have got up and he would have carried on, somehow. But Ocaña couldn't. He was fragile, both physically and mentally. But frailty like that also adds something to the story of a rider. Let's call it style.
Luis Ocaña was like a racehorse; a gifted thoroughbred but with a body too frail to fully support that gift. When he climbed, when he rode a time trial, it was impossible to see where Ocaña's power came from. But it was there.
When Ocaña won the 1973 Tour de France he won six stages and put an impressive 15 minutes into second-placed Bernard Thevenet. But Bernard Thevenet wasn't Eddy Merckx, and Eddy Merckx wasn't there.
7 Fabian Cancellara
Here's a handy guide for any cyclist: when you are buying cycling kit, or even getting dressed to go out on your bike, keep this thought in mind — would Fabian Cancellara go out in this? If the answer is no, then don't do it. The now-retired Swiss superstar is a cycling fashion icon. He always looked immaculate, even when covered in mud, and that's no accident. It's style.
6 Lucien Van Impe
Van Impe was sublime. Arguably cycling's greatest-ever climber, he danced uphill with a balletic grace that no one has ever quite matched. But then Van Impe wasn't like any other climber. He was light, yes, but that was due to a lack of height, not muscle.
Lucien Van Impe was compact and neat. He climbed smoothly, transferring easily into and out of the saddle. Contrast that with the jerky, sticky-out-elbows style of another climbing great, Julio Jimenez, or the tortured progress of Marco Pantani.
Van Impe looked like he had wings. The only riders close to him were his hero Federico Bahamontes, and Charly Gaul; the Eagle of Toledo and the Angel of the Mountains respectively. Together with Van Impe those three are the greatest climbers of cycling. We reckon we should call Lucien Van Impe the Falcon of Flanders from now on.
5 Jacques Anquetil
Maître Jacques, that's what they called him; not just the fans but his fellow riders, too. In France the title Maître means the master of a subject. It was a term of respect, reverence even, which in Anquetil's day was used for lawyers and teachers, who were both held in higher esteem than they ever were in the UK or the US.
Anquetil had a presence. He held himself in a certain way, outwardly imperious but always a gentleman. Privately he was nervous, superstitious, contradictory, and some aspects of his life were downright dodgy. But in public he had a presence and he had style.
>>> How they used to train: Jacques Anquetil's time trial training
Anquetil was at his best in a time trial. He was aerodynamic perfection for the kind of bikes they rode then. Crouched low, his legs powering a huge gear with smooth finesse and a toe-down style that nobody else has replicated, it really was something to behold.
He was classy, too. Barry Hoban, who raced against Anquetil and Merckx when they were at their best reckons, "Anquetil was as strong as Merckx, but he wasn't as explosive, as driven or as dedicated. He didn't want to win everything, either. Neither did he shout and bawl at other riders if they didn't work. Anquetil just got on with it. And he always dressed immaculately and travelled with an entourage: his beautiful blonde wife Janine, his manager and other hangers on. I was in awe of him to be honest."
4 Stephen Roche
1987 Triple Crown winner, Stephen Roche was a bit like Luis Ocaña, the thoroughbred racehorse with a fragile body. He pedalled exquisitely, like it was gift, and as such he represents the last of that kind of rider. After Roche, cycling became all about power, about numbers and logical calculations. It became physics. If a rider can sustain 400 watts and weighs 69 kilograms he will be fast. But logic couldn't explain why Roche was fast.
He wasn't muscular and he wasn't particularly skinny, either. He just looked at home on a bike, perfectly balanced and in control. And he was always immaculate. Dirt and mud didn't seem to stick to Stephen Roche. Neither did he ever look flustered, even on the day in the 1987 Giro when the tifosi spat at him and threatened him on the road to Sappada.
3 Maurizio Fondriest
Robert Millar once said of the way Maurizio Fondriest looked on a bike: "It would take you all day in front of a full-length mirror just to get the arms right." Everything about the Italian from the mountain town of Cles screams style.
He sat just right on his bike, he pedalled perfectly, he looked immaculate. But it was all enhanced by the way he raced. Fondriest was fast, a Classics winner who made flashy attacks and had the grit to make them stick. He was a joy to watch. He is also one of the nicest people you could ever wish to meet.
2 Roger De Vlaeminck
A four-time Roubaix winner, Roger De Vlaeminck also won Liège-Bastogne-Liège, Milan-San Remo three times, the Tour of Lombardy twice and the Tour of Flanders, as well as 22 stages in the Giro. And he won a lot of those races at a time when Eddy Merckx was trying to win everything.
De Vlaeminck was at one with the bike. He rode it like a musician plays an instrument. Those who raced against him swear he sped up when he hit stretches of pavé. But he didn't batter the cobbles like Tom Boonen or Fabian Cancellara does. De Vlaeminck floated over them.
He had a unique style for pavé. His hands rested on the brake hoods, while his arms acted as a suspension system, absorbing the bumps, allowing his bike to move beneath him. His legs were the same. They seemed to flex independently of his pedalling.
Add in his dark good looks, Seventies fashion, a love of fast cars and playboy reputation, and it's easy to see De Vlaeminck's style even now, 40 years after his pomp. That American-styled Brooklyn jersey helped too. It would look good in the peloton today, and so would Roger De Vlaeminck.
1 Fausto Coppi
Grainy film and sepia prints are all we have left of Fausto Coppi, but even they drip with style. Watch any footage of Coppi and you'll see a style of attack like no other. Nothing changes, except his legs spin faster. One moment he's pedalling in a group, then he's alone. There was a period in his career, and it lasted for more than a year, when if Coppi attacked he was never caught.
Coppi used to say that when he was riding well he felt like he was pedalling from his kidneys. We think what he meant was he felt like his body was held rigid so that his legs could press down on the pedals from a rock solid platform. Translate that to what we know now and Coppi is talking about core strength. So, if you want an explanation for why he was so good that's it: Coppi had phenomenal strength in his lower back and legs.
>>> Icons of cycling: The Cima Coppi
But we don't want an explanation. For us Coppi was amazing and he looked amazing. Commentators at the time said he was ungainly off his bike, awkward, gangly, odd-looking even, with narrow shoulders, sunken cheeks, skinny arms and huge, long muscular legs. His great rival Gino Bartali said that Coppi looked like a skinned cat. It was different once he got on a bike.
As we said earlier, there isn't much left to see of Coppi now, so we'll leave it to somebody who did see him to describe his riding style — the 1930 and 1932 Tour de France winner, André Leducq. For a while after he retired the Frenchman worked as a journalist for Le Miroir des Sports. This is how he described Coppi in 1952:
"He seems to caress rather than grip the handlebars, while his torso appears fixed to the saddle. His long legs extend to the pedals with the joints of a gazelle. At the end of each pedal stroke his ankle flexes gracefully. It's as if all the moving parts turn in oil. His long face appears like the blade of a knife as he climbs without apparent effort. He rides like a great artist painting a watercolour."
Now that's style.
Thank you for reading 20 articles this month* Join now for unlimited access
Enjoy your first month for just £1 / $1 / €1
*Read 5 free articles per month without a subscription
Join now for unlimited access
Try first month for just £1 / $1 / €1